The ACA repeal movement may have gained a bit of momentum this week…The quick take – odds are this momentum will peter out as changes wanted by some Republicans are anathema to others.
My take is the hands on the Deathwatch Clock just moved back – not forward.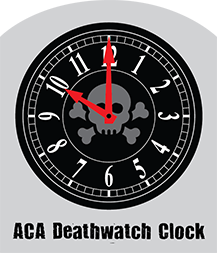 Here's what's going on.
The White House continues to push for a vote in the House by the end of this week, apparently to give President Trump a "win" in his first 100 days.
Hard-right Freedom Caucus Republicans have apparently agreed to a rough outline of a repeal plan. (details below)
Somewhat-more-moderate Republicans have publicly weighed in on the outline, and there's a good bit of concern over coverage for pre-ex conditions and other provisions.
While the challenge faced by the Republicans is pretty straightforward, the solution is anything but. Put simply, changes that get support from the hard-right reduce support from more-moderate Republicans; It's a zero sum game.
And that's before it gets to the Senate, where it will die because Senate Republicans are loathe to pass anything remotely resembling AHCA.
Details on the latest legislation
Healthcare is brutally complicated, a reality that's becoming increasingly apparent to GOP negotiators. To get to some sort of agreement between hard-rights and more-moderates, the latest repeal legislation includes:
waivers that allow states to set insurance premiums for older people 5 times higher than younger folks
ability for states to let insurance companies eliminate or limit coverage for different types of medical care – drugs, therapy, behavioral health, nursing home care, etc.
ability for insurance companies to "medically underwrite" individual and small group insurance again – in English, let insurers decide whether to cover you, and how much to charge, based on your medical history and risk factors.  To do this, states will have to provide high-risk insurance pools to help offset losses (this is a really complicated solution that hasn't ever worked)
I won't bore you with the nitty-gritty details, you can read them here.
What's becoming increasingly apparent to Republicans in DC is they have a Hobson's choice.
There is no way they can deliver on their campaign promise to repeal ACA and replace it with anything that won't piss off a lot of their supporters.
But if they don't repeal ACA, that will really piss off a lot of their supporters.
Add a President who doesn't care what legislation does or doesn't do, but cares a lot about "winning", and we now understand why they are in the mess they are.
What does this mean for you?
The GOP has yet to transition from opposition to governing party.