Some states and regulators are slashing workers' comp pharmacy reimbursement. This is a huge mistake.
Work comp drug costs have dropped 11 percent over the last 6 years. Work comp PBMs have successfully reduced their revenues and profits, benefiting their patients, customers, employers.
(Contrast this with non-WC drug costs which have gone UP every year)
(Chart from CompPharma 2016 Survey of Prescription Drug Management in Workers' Compensation; trend indicates decline in annual drug spend)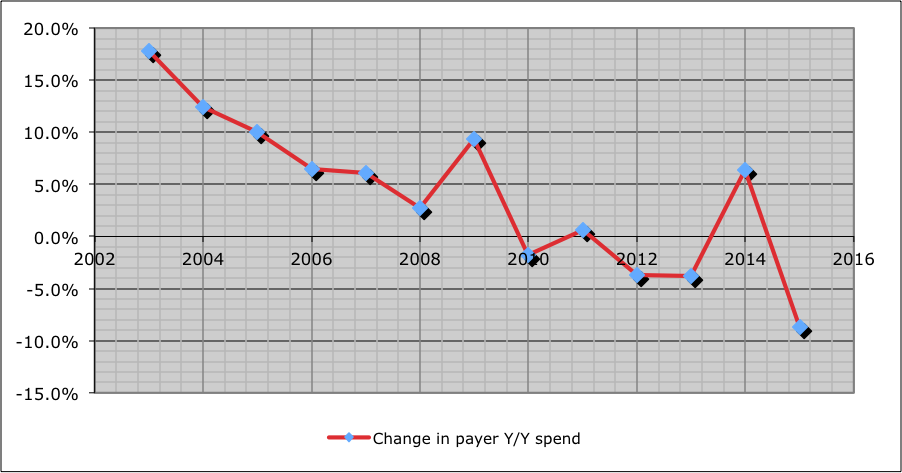 And for this, they are getting hammered.
Workers' comp PBMs have done great work reducing the inappropriate use of opioids, protecting patients from deadly drug combinations, and cutting overall drug spend in the process. Fewer new patients are getting opioids and opioid spend is down significantly. Yet for reasons beyond understanding and contrary to all evidence, regulators in some states have decided that drug costs are now too high, so they are drastically slashing fee schedules.
This is not going to end well.
Managing prescription drugs is very labor- and technology-intensive, requiring
expert, highly trained, and very specialized staff, and
constant updating of critical information systems.
When regulators slash reimbursement, PBMs can't afford the pharmacists, IT staff, business analysts, customer service personnel, legal and compliance experts, systems, and resources that have been instrumental in delivering better patient care and lower costs.
Folks, it costs money to do this. And fee schedules based on Medicaid ignore the fundamental differences between managing workers' comp and Medicaid patients.
Without adequate reimbursement, we're going to return to the bad old days of "fill it and bill it."
A bit more explanation.  Work comp PBMs have dozens of clinical pharmacists focusing on:
developing, managing, and updating formularies for clients and individual patients
working with prescribers to alter patients' drug regimens based on evidence-based guidelines
working with employers and insurers to develop and implement prior auth, medical management, and appeals processes
implementing comprehensive opioid management programs to prevent addiction and dependency
intervening when patients are prescribed multiple opioids, benzos, muscle relaxants, and other deadly combinations
Then there are the IT folks working on data links so claims adjusters get early, customized communications about potential issues, alerts when patients are prescribed long-acting opioids, information about multiple prescribers and/or multiple pharmacies, and dozens of other potential problems.  Problems that may kill patients, prolong disability, addict patients.
They work with PBMs' business analysts mining data to find doctors with patterns of potentially-inappropriate prescribing patterns – such as the worthies in LA County.
Their legal and compliance teams work with insurers and employers to figure out what can and cannot be done to improve patient safety, alert law enforcement to potential fraud or diversion, and inform stakeholders of the frequent changes in all 50 states' policies and requirements around work comp pharmacy.
And the front line – the customer service/patient communication staff that talks directly with prescribers, pharmacists, patients, adjusters, families, employers. These women and men have to be patient, kind, thoughtful, educated, knowledgeable.  It's not like you can just put on a headset and start chatting about morphine equivalents, state regulations, the respiratory implications of increasing opioid intake, or polypharmacy. Initial and ongoing training and education is critically important.
There is much work left to do, as there are still hundreds of thousands of work comp patients taking way too many opioids. These are the most difficult, complex, time- and resource-intensive patients. They are also the patients that are going to be harmed most by the blunt instrument that is fee schedule reduction.
What does this mean for you?
Slashing fee schedules hurts patients, employers, and taxpayers.
If this continues, expect higher overall drug costs due to greater utilization, increased opioid prescribing and dispensing, and longer disability durations.
Note – as president of CompPharma, at some point I may be financially affected by big cuts in fee schedules. Hasn't happened yet, and it may not.