The Tar Heel State is the latest to expand access to Medicaid, a move that will drastically improve the health of 600,000 (!!!) North Carolinians and financial stability of dozens of hospitals and hundreds of other care providers.
40 states have now expanded Medicaid under the Affordable Care Act (aka Obamacare)…holdouts include Florida, Texas, Mississippi, Alabama, Missouri…
Think this doesn't impact workers comp?
Think again.
States where work comp facility costs have risen the most – courtesy WCRI.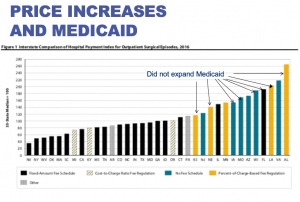 This from Captain Obvious – Hospitals in states that failed to expand Medicaid are using workers' comp as a financial lifeline.
What does this mean for you??
Failing to expand Medicaid is unconscionable.  It greatly improves the health of babies, moms, kids, and older folks – at very, very little cost to taxpayers. 
The blatant hypocrisy of politicians claiming to respect life while blocking Medicaid expansion is disgusting.