The net – we're further away from repeal and replace than we were even a week ago.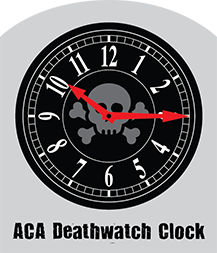 The details
There's been a good deal of understandable confusion about the fate of ACA; first it was going to be repealed on Day One of the new Administration, then January 27 was the day, now it's either sometime late this year or early next. Or perhaps, not.
What's indisputable is this;  undoing ACA and "replacing" it with legislation that will reduce costs, increase coverage options, and not leave anyone with coverage today uninsured is not possible – unless drastic cost-reduction measures are implemented, measures that are anathema to free-market Republicans.
Republicans sought to use the budget reconciliation process to undo much of ACA, figuring that would allow them to kill components such as the mandate that are particularly offensive to the GOP, while working on a replacement bill that might or might not be passed with a final "repeal" bill.  As reconciliation bills can't be filibustered, the initial step in the repeal process passed easily.
But here's the problem – the proverbial clock is ticking, and the longer this drags on, the less likely it is a Repeal/Replace bill will happen.  
First, insurers MUST have some idea what will happen in 2018 before they can come up with rates for coverage in the Exchanges. And they need to know this by May 3 – at the very latest.
Second, Governors need to know what's going to happen with Medicaid. Seniors need to know what their Medicare Advantage costs will be.  Hospitals need to know what they will get paid for Medicare, Medicaid, and in DSH and other payments before they can set prices.
As has been well-documented here, there's little consensus among Congressional Republicans on what a replacement would look like. And there are a bunch of other high-priority bills that are must-pass; tax reform, budget, spending and the like, all of which will take a lot of time off the legislative calendar.
And there's this – Once a budget resolution for 2018 is passed, the current ACA reconciliation bill is null and void. While it's possible Republicans delay the Fiscal Year 2018 resolution as they try to cobble together a replacement bill, this will greatly complicate the legislative process, likely hinder another key priority – tax reform, and as of today there's no consensus even among Republicans on what "replacement" would look like.
While it's theoretically possible Republicans pass another reconciliation bill for the FY 2018 budget year to further kick the ACA can down the road, it's highly unlikely.
Lots more detail on this here.
What does this mean for you?
Yes, it's certainly possible ACA will be repealed and replaced. Just a little less possible with each passing day.