Good news Monday starts with this from the Economist, a beacon of objectivity (reformatted for clarity):
a steady stream of better-than-expected data has left analysts scrambling to lift their forecasts.
New orders for manufacturing firms reached their highest in nine months in July.
Retail sales were perky last month, too, with consumers splurging on everything from restaurant meals to online shopping and clothing to sporting goods.
The construction industry has also been buoyant, supported by a rebound in homebuilding.
the labour market… has remained hot, making it relatively easy for people to find work at decent wages.
The total number of jobs in America has been growing faster than the working-age population, helping to keep the unemployment rate at 3.5%, just shy of a five-decade low.
Oh, and those naysayers, remember they are the ones who've been doomsaying a recession is imminent…for more than two years.
"Eventually" that may happen – and "eventually" my granddaughter may have grandkids…
Oh, and our economy has far outperformed the rest of the developed world over the last few years.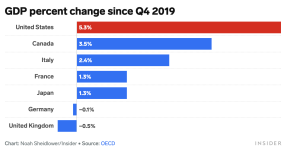 One measure of a country is how it cares for the less fortunate…thanks to recent changes in Medicaid thousands of homeless people are now getting primary care, which is:
A) the right thing to do and
B) saves a boatload of dollars as these homeless folks are far less likely to go to the ER which costs a shipload more than getting basic primary care.
What does this mean for you?
Don't get caught up in all the negativity…workers are doing better and better, jobs are plentiful, we are improving the lives of the less fortunate…and the US is leading the world.