Medicaid for All is back on the table.  In a speech in Rolling Fork MS, President Biden revealed that his administration is working in concert with Progressive Democrats – and Sen. Mitt Romney (R UT) – on legislation that would allow any citizen to enroll in Medicaid.
Citing Mississippi as an example of major problems with healthcare access, widespread un-insurance particularly in southern states, rising healthcare inflation, and massive bad debt from medical bills, Biden sketched a (very thin) outline of Medicaid for All. (no details on cost, timing, or much else, a lot of soundbites about babies, insulin, nursing homes and affordability)
While this may seem like a bolt out of the blue, it is pretty clear Biden's administration has been working this since before he took up residence in the White House. The latest was a major streamlining of the enrollment process back in August of 2022 intended to make it much easier for families to sign up for Medicaid and eliminate caps on child care coverage.
Biden has been teasing a major announcement on healthcare for a couple weeks, most recently during an event lauding the ACA's birth…
from the Washington Examiner: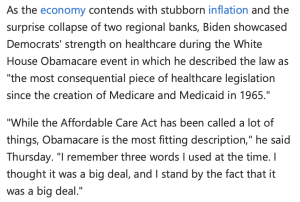 Public support for major changes to healthcare has grown alongside support for the ACA. Seeking to highlight Dems' perceived strength in healthcare and Social Security well ahead of the 2024 elections, White House spokesperson Robyn Patterson noted:

note this is NOT Medicare for All (M4A), a concept that was widely circulated back when  the ACA was in development. Biden briefly alluded to M4A in his remarks, noting his team ruled it out as Medicare "is not comprehensive, is confusing to many, and is mostly focused on older Americans…it wouldn't work for young families…"
Reports indicate VP Kamala Harris has been pushing this since Biden named her his VP. Sen. Brian Schatz (D HI) an early advocate of Medicaid for All, has been meeting regularly with Biden staff, other elected officials, and HHS leaderships in an effort to build support. Schatz is close with Utah Sen Mitt Romney; recall Romney led the charge to revamp Massachusetts' healthcare system and establish "RomneyCare" over a decade ago.
We can count on a full-throated opposition from almost all Republicans, although Romney's reported involvement will give Biden much-needed "bipartisan" cover. I would not be surprised if Louisiana's Sen. Cassidy also signs on; he's been a behind-the-scenes advocate for a major revamp of healthcare for years. Long an advocate for state control of healthcare, Medicaid fits his policy views far better than Medicare.
in my view, there are a host of reasons Medicaid For All makes a lot more sense than Medicare for All; here's what I wrote about this back in 2018…
Medicaid for All will spread the cost of universal coverage across states, reducing federal financing requirements.
Medicaid is a state AND federal program; States provide a lot of the funding for Medicaid; on average the Feds contribute 63% and states 37%. This is critical, as Congress will want to spread the cost of a Single Payer solution and there's no better way to do this than require states to pony up big dollars [State contributions vary based on a state's average personal income relative to the national average; states with lower average personal incomes get more federal dollars.]
Medicaid is already built to cover everyone.
Medicare covers people of all ages, Medicare is very much elder-care focused.
Adapting Medicare to handle everyone from newborns to elderly, maternity care to pediatrics will be difficult, time-consuming, and expensive. Medicaid does all this and more – today.
Generally, Medicaid is less expensive than other "systems".
This is due to much lower provider payment and significantly lower administrative costs. Yes, this means providers are going to be paid less.
Medicaid member satisfaction is pretty good; access to care is not much of an issue.

Medicaid-based Exchange programs are much more successful in the Exchanges than commercially-based plans.
The Centenes et al [Medicaid-based plans] understand the demographics of the uninsured, have lower medical costs, and already have provider networks, customer relations operations, workflows and processes set up and operational. At the end of the day, lower cost wins – and their costs are lower.
Medicaid is a simple, fully-integrated healthplan.
Medicare's alphabet-soup of Parts A B C and D is confusing and convoluted, with different payers often covering the same individual. This increases administrative costs, member hassles, and decreases quality of care (co-ordinating pharmacy and medical care between different payers is problematic at best.
Managed Medicaid plans are working.
These plans currently exist in most states, and many have been able to deliver excellent care at lower costs through innovation and very tight focus on outcomes. One example is using paramedics to deliver care. [disclosure – I sit on the board of Commonwealth Care Alliance, a Massachusetts healthplan that serves dual-eligible members]
What does this mean for you?