Or, it is a GREAT time to be a monoline carrier.
The property & casualty insurance business is a tale of two extremes, with work comp profits offsetting losses across all other lines.
That's one reason multi-line insurers are dragging their feet on cutting work comp and continuing to hoard billions of dollars in excess reserves.
Work comp is hugely profitable, with insurers raking in hundreds of millions in profits…with $10+ billion more in excess reserves, aka unrealized gains.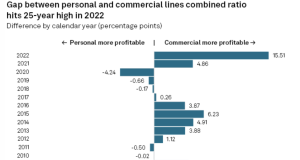 chart extract from S&P
Other insurance lines are the yang to WC's yin.
S&P predicts all other lines will lose money on an underwriting basis again this year…
Here's the money quote (pun intended):
➤ Dismal first-quarter 2023 direct incurred loss ratios in the homeowners and private auto business suggests a repeat of 2022, when highly favorable underwriting results in the commercial lines, aided in part by favorable prior-year workers' compensation reserve development, were more than offset by the personal lines losses. [emphasis added]
and implications thereof:
The [2022] workers' compensation combined ratio of 83.9% represented a decline of nearly 3.3 percentage points from the 2021 result. It ranks as the second-lowest such result in the last 25 years, owing to relatively benign trends in the current accident year and a fifth straight calendar year of favorable prior-year reserve development in excess of $5 billion. [emphasis added].
What does this mean for you?
Those who pay comp premiums are subsidizing insurers' losses in personal and commercial lines – especially personal auto.