Didn't post this week…was in Chicago for the annual father-son trip to watch the Sox play the Cubs…very fun time!
While I was relaxing in the stands, shockingly the world continued turning…
WCRI's report on long COVID's impact on work comp was release, examining claims with an average of 18 months post-infection…my takeaways  include:
one out of 19 COVID claims developed long COVID
medical costs average less than $30k
temporary disability benefits run a bit above 20 weeks
Long COVID's impact on workers' comp is pretty minimal
Risk and Insurance weighed in on "social inflation", a not-well-defined term insurance folks use to characterize their not-very-well-founded belief that society is driving up casualty claim costs.  VERY briefly, insurance execs complain that high jury awards to claimants are driving up insurance costs…however there's precious little real research supporting that view. 
This from Ken Klein's presentation to NAIC in 2022…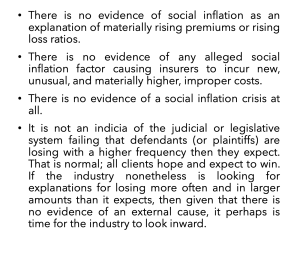 What does this mean for you?
Stop catastrophizing until you can prove something exists.
Start catastrophizing when the data is convincing.