A just-released study found striking differences in death rates from COVID based on political party affiliation.
The study reviewed "538,159 deaths in individuals aged 25 years and up in Florida and Ohio between March 2020 and December 2021…"
more from JAMA
"Between March 2020 and December 2021, excess death rates were 2.8 percentage points (15%) higher for Republican voters compared with Democratic voters…(Table)….political party affiliation became a substantial factor only after COVID-19 vaccines were available to all adults in the US."
After April 1, 2021, when all adults were eligible for vaccines in Florida and Ohio, this gap widened…with excess deaths among Republican voters 43% higher than among Democratic voters.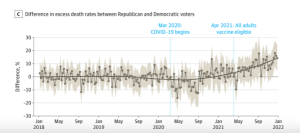 (you can get a higher resolution view here)
What does this mean for you?
Take a step back and consider how it came to this.