Pretty terrific.
Put another, more awkward way, COVID's been very, very good to work comp insurance.
Yesterday kicked off the NCCI Annual Issues Symposium with CEO Bill Donnell's introduction. Bill set the right tone – we've all been humbled, learned not to take anything for granted, and adapted.
The State of the Line address was again led by Chief Actuary Donna Glenn. Donna and her colleagues spoke extensively about the impact of COVID – fewer total claims and a big drop in premiums especially for main-street businesses, hospitality, retail and personal transport (my label, not her's).
Financial highlights
Net written premiums were down 10% for state funds and private carriers.
Early numbers indicate a calendar year combined ratio of 87% with $14 billion in excess reserves – and only $260 million in COVID losses.
But this financial heyday wasn't just due to COVID. Last year was the 8th year in a row for rate decreases – many of them in the double-digit range; rates continue to drop, with the vast majority of states seeing significant Year over Year decreases.
Despite plummeting rates, the combined ratio (claims plus all admin costs) has been under 90 for four consecutive years…so rates are STILL too high. While Donna characterized the underwriting gain as a measure of "financial strength", I'd suggest one could also call it "over-pricing".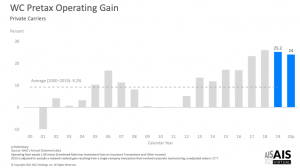 Unpacking the combined ratio we find loss ratios have been under 50% for three years in a row. Investments gained 11% last year. The result – a 2020 pretax operating gain of 24%.
That, esteemed reader, is a very hefty profit margin.
Even heftier when one adds in the $14 billion in excess reserves.
COVID
The average COVID claim cost $6000, and about 75% are lost time claims. COVID claims represented 7% of LT claims.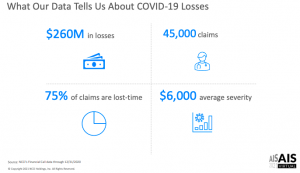 "Indemnity only" claims are those that had no medical costs – and are pretty much unique to COVID claims. Makes sense when you think about how most of us are affected – a couple weeks of misery at home, followed by a steady recovery, with no external medical care..
Even COVID claims with both indemnity and medical costs ran up $18k in costs – about half the cost of the average WC LT claim.
95% of claims were less than $10,000, 1% of claims accounted for 60% of losses – these tended to be inpatient claims, often with ICU utilization.
My takeaways.
First, work comp is VERY profitable.
Second, insurance rates are still much too high. (Even if claim counts rise, there's a LOT of excess reserves sitting in insurers' coffers.)
Third, all the caterwauling about how awful COVID's impact on work comp was flat out wrong. More to the point, much of it was avoidable if those predicting awfulness had thought about how COVID is treated.
Mark Priven and I – and I'm sure others – figured this out last summer; this isn't to blow our horn but rather to show all the indicators were there – if one just knew to look for them.
I believe this is because most people in workers' comp don't know or understand health care, medical care, health insurance, provider business practices – pretty much anything about the biggest driver of workers' comp costs.
And that's why they got COVID predictions so wrong.