To those who took my April 1 post on the Administration's decision to use "sharing ministries" as the basis for their new health reform plan for fact – I'm kinda sorry. 
The April Fool's post has been a tradition here; this year's effort caught more folks than most of the previous ones. But after I stopped high-fiving myself, I realized that what was most disturbing was it's kind of believable.
As in, the knuckleheads in the current Administration might actually think "sharing ministries" are the answer to our healthcare crisis.
Ha! you say; no one is that naive.  To that I say, well, hundreds (ok, maybe scores) of readers thought the post was real, mostly because we've been numbed by the endless stream of lies, twisted facts, made-up statistics, and idiotic policy proposals coming out of Washington.
So, yeah, ditching insurance for "sharing ministries" is about the worst "solution" one could come up with. I say this despite the 18 commenters who responded to the post, many happy with their decision to dump insurance and pay into some form of "sharing ministry".
While I appreciate that people of faith may trust others who appear to share their same views, I'd strongly encourage anyone – especially the million of so Americans who already are enrolled in one of these plans – to reconsider their decision. Like, NOW.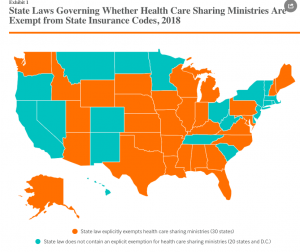 Because while legal under the ACA, these plans are NOT insurance, can dry up and blow away at any time, are NOT regulated, are NOT legally required or obligated to pay any claim, and are NOT required to keep enough money on hand to actually pay claims. (graphics from Commonwealth Fund)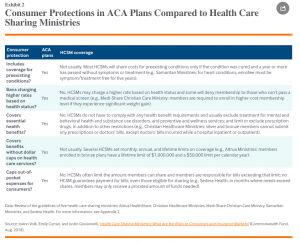 What does this mean for you?
The net is this – when you NEED health insurance, you REALLY need it. And there are NO guarantees these sharing ministries will be there.