A couple years ago, we heard endless stories about how "Obamacare" premiums were shooting up, individual health insurance was unaffordable, and families were going bare because the morons that came up with the ACA screwed it up.
Now, with average premiums up 30 percent, we hear…crickets.
The reason premiums have gone up by about a third is simple; President Trump stopped the payments that subsidized low-income folks and insurers are scared he'll stop enforcing the individual mandate. Unsurprisingly, many people dropped coverage, and insurers had to raise premiums because their risk pools worsened.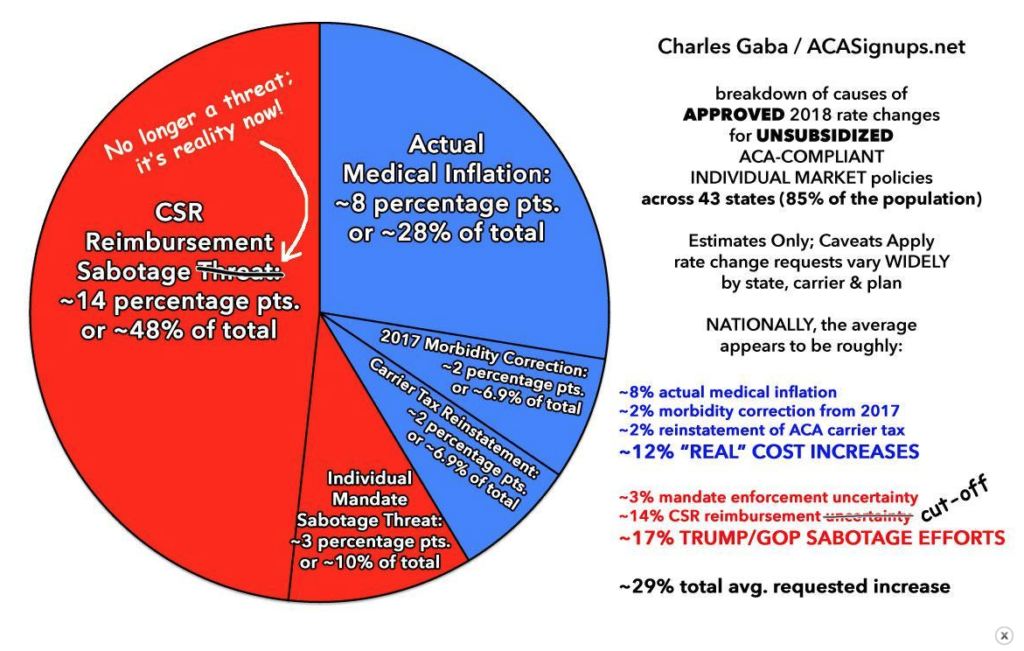 Chart credit Charles Gaba, ACASignups.net
If CSR payments were still in place, and insurers assured the mandate would be enforced, premium increases would be less than half they are today.
What's scary about this is how easily the media's focus is influenced by outside efforts. Instead of informing us of this very real, and very important issue, the media is all wrapped up in arming teachers, death penalties for drug dealers, and Stormy Daniels.
What does this mean for you?
A reminder that all of us have to stay focused on the important stuff, not the shiny objects.