Florida's legislature can't decide if it does or doesn't want federal money.  That's the policy question; it's discussed in some detail below.
A quicker explanation by way of metaphor was conveniently provided by a native Floridian; Austin Hatfield adopted a pet water moccasin, one of the most aggressive and poisonous snakes in this Hemisphere.  He liked it.  Then it bit him in the face when he kissed it.  Now he's in critical condition.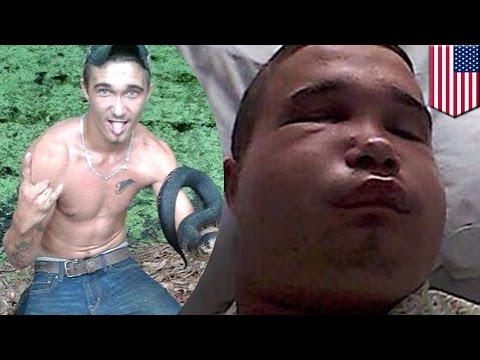 Kinda like what's about to happen to Florida's health care system.
While Florida's Senate wants to expand Medicaid, the state house has said NO to Medicaid expansion under PPACA, but wants the billion dollars of federal money that has been supporting struggling hospitals; these dollars will disappear at the end of June.
Governor Rick Scott (former CEO of HCA, which paid a $1.7 billion fine for Medicare and Medicaid fraud, and involved in at least one more company alleged to have committed Medicare fraud) is outraged that Florida can't get the money that no longer exists, even if the Sunshine State doesn't want to expand Medicare.
The reason the hospital dollars were cut is simple; by expanding ALL coverage, hospitals would have far fewer uninsured patients and thus wouldn't need federal taxpayer dollars to cover their costs.
What Florida's House and Governor are saying is they don't want Medicaid, but do want the "lost" dollars replaced.
I don't get it.
Remember the Feds are paying ALL of the Medicaid expansion costs thru 2017, then their support ratchets down gradually until they are paying 90% of the costs.
Ninety percent…
For some reason that doesn't make sense to the House; but they DO want the billion plus dollars for hospitals, dollars that no other state gets. Of course, the legislators didn't THINK about this when they adopted their principled stand against federal largesse, but quickly changed their tune – somewhat – when hospitals screamed about the financial disaster the House' position would bring upon them.
To their credit, the Florida House and Senate seem to have figured out they have adopted a water moccasin, and it is about to bite them in the face.  Now, they want the Feds to defang their beloved friend before it kills them.
I was at a Florida Chamber meeting a couple years back when Scott and an Orlando hospital system CEO talked about the need to expand Medicaid; At that point the unindicted former CEO of the company convicted of the biggest Medicare/aid fraud in history was kinda sorta in favor of Medicaid expansion.  The business people in the room got it; the ideologues didn't.
Hidden in this mess is the damage caused to the 800,000 or so lower-income Floridians who won't get coverage. [sub req].  Orlando Sentinel columnist Scott Maxwell said it very well:
…the feds are basically saying: We're giving you the money to provide citizens cheaper, preventive health care. If you won't give them that, we're not going to clean up your mess by spending tax dollars on costlier ER care.
This is what fiscal conservatives should want.
It's like offering to pay for your daughter's insurance plan and having her say: No thanks, Dad. I'd rather you just pay for my ER bills instead.
You'd tell her: No way. Well, Rick Scott is that defiant daughter, suing federal taxpayers to keep welfare-for-hospital-ER's going.
What does this mean for you?
Either you want federal taxpayers to subsidize your health care system, or you don't.
And if you don't, you can't complain when your head blows up to the size of a prize watermelon.