That is the reason there's been so much investor interest in workers' comp – we are the epitome of the "yellow sticky" business…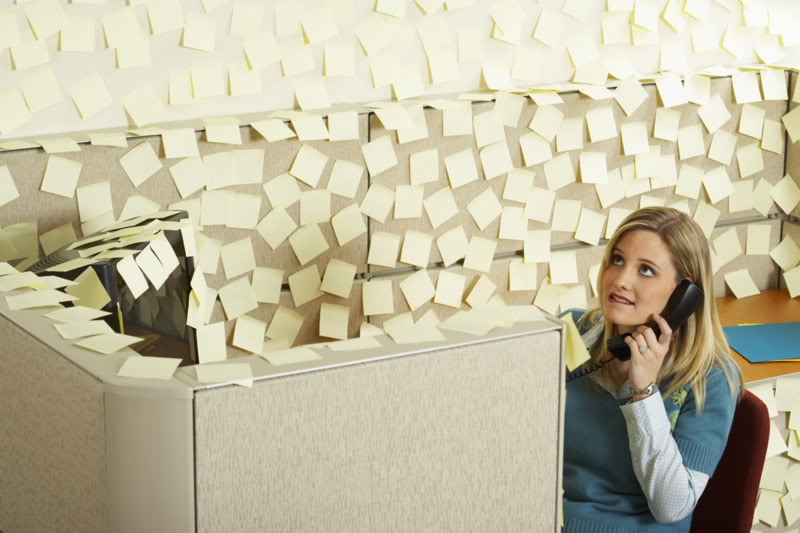 Workarounds abound, driven by individual adjuster's requests, insurer system limitations, ever-changing state requirements, unrealistic-but-nonetheless-mandatory employer demands, and system "upgrades" that eliminate prior changes built specifically to accommodate a specific customer.
A couple examples…
Some state regulations require insurers to allow physician dispensing of drugs only within seven days of the date of injury. This requires the payer, Pharmacy Benefit Manager, bill review processor, and adjuster to have a "counter" to make sure they aren't approving/allowing/paying for doc dispensed drugs they shouldn't be. Data feeds have to be designed and built and tested, new fields added, new alerts coded, and staff trained and monitored and QA processes developed.
Or, more likely, put a yellow sticky with "do not pay Doc Disp Rx w/i  DoI" on that computer.
A large employer's risk manager does NOT want Dr Awful to perform any Independent Medical Examinations (IMEs).  The employer TPA has to ensure its adjusters never use Dr Awful.  The adjuster that usually handles that employer's claims is out on maternity leave, and somehow their replacement is supposed to KNOW this, perhaps by puzzling thru the SLAs (Service Level Agreements), reading the special handling instructions, or asking their manager.
Or, more likely, just put a yellow sticky with "DO NOT USE DR AWFUL FOR COMPANY X'S IMEs" on that computer
Pretty soon you get a cube that looks like our photo above.
Our industry is seen – rightly so – as horribly inefficient, ripe for automation, desperate for change. It is also inherently un-automatable, for several reasons.
First, it's a state-driven system.  And when you've seen one state, you've seen one state.  Fee schedules, billing rules, employee direction to preferred providers, clinical guidelines, utilization review, state forms, dispute resolution processes, documentation requirements, all vary from state to state, and are constantly changing.  It's just very, very hard to stay on top of these changes, figure out how to implement them, and also educate adjusters, clinical staff, bill processors, employers, lawyers and patients.
Second, payers chronically under-invest in technology, so even if the vendors have this whiz-bang terrific artificially intelligent tech platform, chances are pretty good they are trying connect with a payer just a generation away from the green screen era…if they ever left it.
Third, TPAs and service vendors have gotten very good at figuring out how to jury-rig their platforms and workflows to accommodate demanding customers.  It's a hyper-competitive business; it's either accommodate or lose the business.  Often it comes down to Martha or Mike in operations knowing that Fred the adjuster wants his reports on pink paper on Tuesdays and purple on Wednesdays.  And if that's what Fred wants, that's what you need to give him to earn – and keep – his business.
What does this mean for you?
Smart people who really understand the business can find lots of ways to do things more efficiently, increasing performance while stripping out cost and eliminating errors. However, if one doesn't really understand the business, making things more efficient may well disrupt and break processes put in place because customers want and need them to work that way.