Back claims account for around a quarter of all workers' comp claims.  They are also among the toughest to handle; what appears to be a simple strain at first report may end up a long-term, permanent disability claim.
Three recent studies on back pain, the treatment thereof, and how treatment varies from place to place are well worth your consideration.
Here's the quick summary of each – followed by what it means for work comp patients, providers, and payers.
First up, a comprehensive study of management of nonspecific back pain treatment options will begin shortly, funded by the Patient-Centered Outcomes Research Institute (PCORI).
The Comparison of Surgical and Nonsurgical Options for Management of Chronic Nonspecific Low Back Pain will assess outcomes for patients receiving surgery (lumbar fusion) vs non-surgical treatment. This is a randomized control trial, so the results will be instructive indeed for work comp regulators, payers, and providers.
HOWEVER, a decade ago a very similar study was conducted which indicated similar outcomes for surgical and non-surgical patients – but this result was not deemed conclusive because lots of patients who were put in the "surgery" group chose not to have surgery and vice versa.
Implications for work comp – a valid study will greatly help regulators determine the approval process and standards for back surgery.
Whether or not you get back surgery appears to depend more on where you live than what your symptoms are.  That's the conclusion from a recent Dartmouth analysis of Medicare data.  The other major takeaway –  – despite the lack of credible evidence that surgery produces better outcomes.
maps below are from Dartmouth Diffusion project.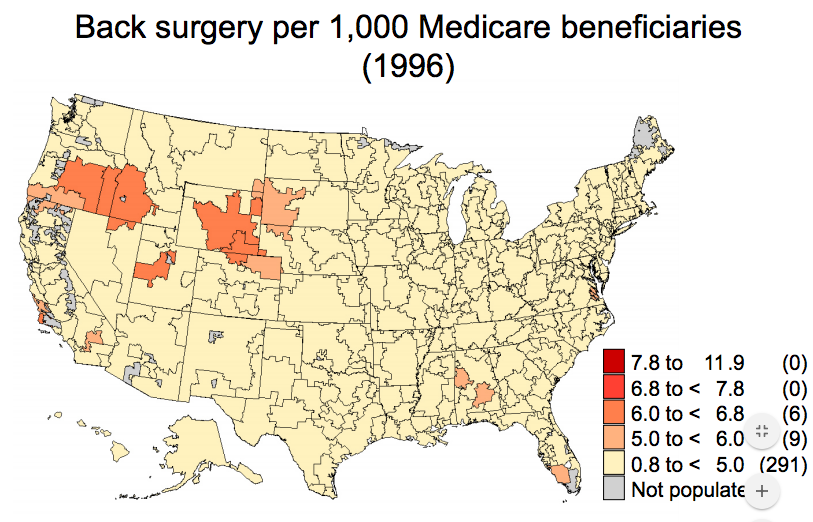 Notice how surgery rates didn't move much at all in New England, but dramatically increased in the southeast and Rocky Mountain regions.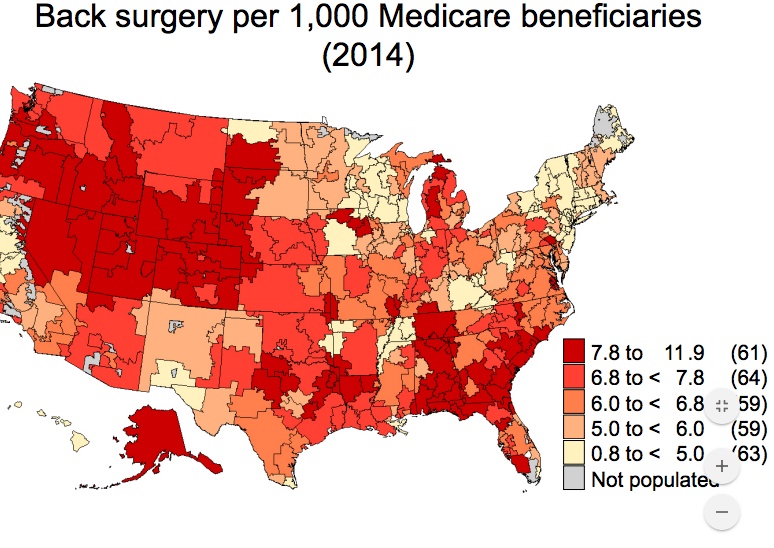 If you want to know why, there's this from the NYTimes article: "physician beliefs about the benefits of surgery were associated with surgical variations."
Implications for work comp – Regulators, use NATIONAL guidelines, and don't rely on local providers to drive your guideline selection.
Supporting this research is this – drugs don't seem to help resolve back pain any quicker. A guideline was just released by the American College of Physicians advocating non-pharmaceutical approaches for treatment of back pain.
Implications for work comp – I'd be repeating myself…