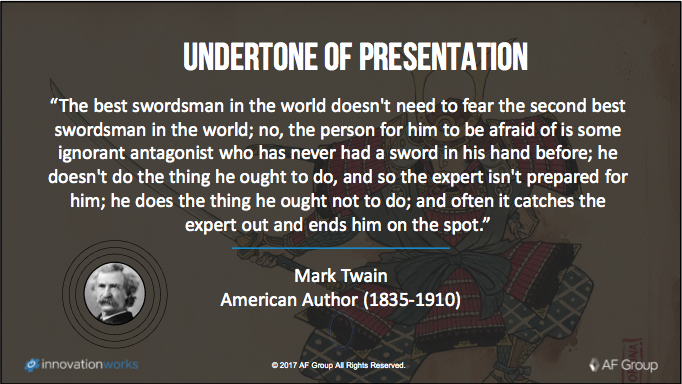 This was the message Accident Fund's Jeff White delivered in a recent presentation on disruption in insurance – and specifically workers' comp. A few of Jeff's slides are shared here…
The idea is simple – things you used to have to do via phone or fax or in person or thru the (gasp) snail mail you can do on your smartphone or tablet – instantly, securely, and at no cost.
Hotel reservation?  Hotels Tonite.
Plane? Get a reservation, get flight status pushed to you, change your seat, get an upgrade.
Get dog food? Amazon Prime.
Nearest coffee? Starbucks app – and pay for it too.
Check on your house? Sure – lock status, turn up the heat, watch home security cameras.
Banking? Deposit checks, pay bills, move money around via your phone.
Sports? Get scores, watch highlights, chat with fellow fans, post pictures, buy tickets.
Travel, retail, security, banking, entertainment – all have been disrupted, middlemen eliminated or drastically changed by adoption of smartphones, spread of a very fast internet, growth of artificial intelligence-driven decision making, internet banking.
This is happening with insurance now, driven by those same technologies, processes, capabilities. Think about the implications; here's one.
Insurance is risk-sharing for potential losses, but it is a very blunt instrument. Risk is estimated using what are really crude tools to assess exposure, potential cost, liability. Technology allows risk takers and risk assumers to narrow down the actual "risk" a lot, lowering cost of risk and more accurately pricing that risk.  Others with similar risks share the burden – but that burden is much lower due to accurate understanding of exposure.
If a loss occurs, tech can pay the claim instantly.
The graphic below is not a "could be", it's a "what actually happened in real life."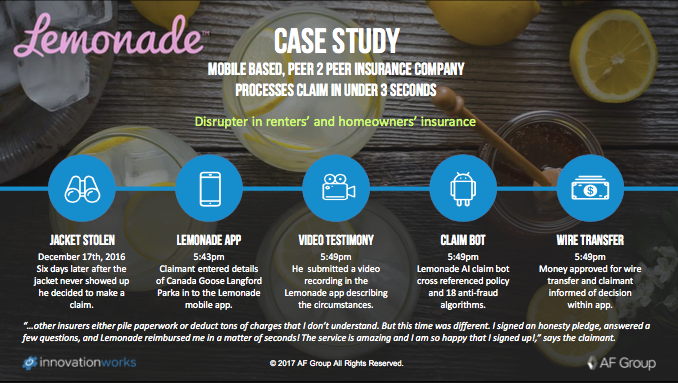 Think this won't happen in workers' comp?
Ask a former travel agent – there are lots of them.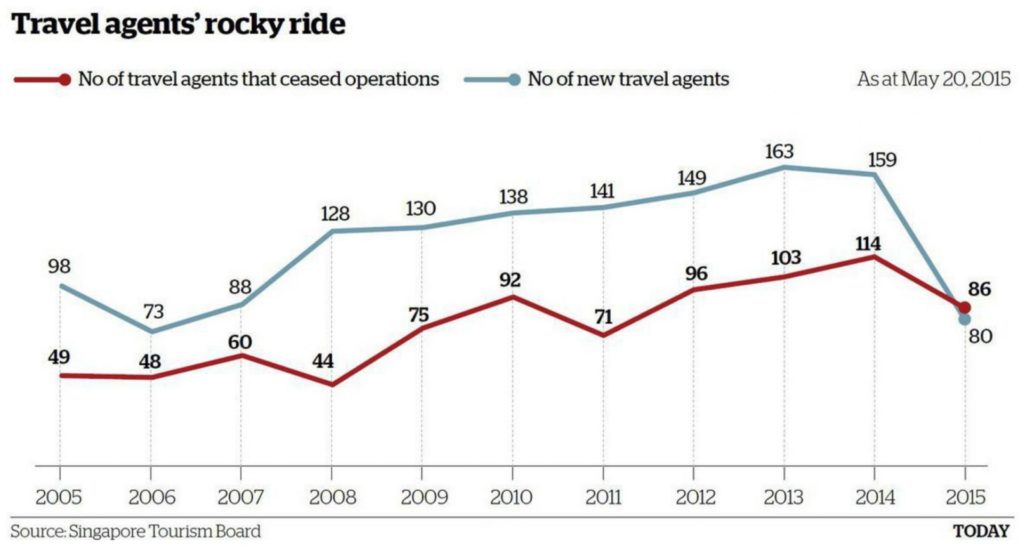 Most insurance companies will NOT survive the transition.  That's because they don't want it to happen as it will reduce revenues, eliminate the need for executives with newly-irrelevant skills and experience, and make existing infrastructure partially obsolete.
New entrants who don't have lots of infrastructure to support and business models rooted in current technology and buying patterns are the "Ignorant Antagonists".  Many of them will fail due to "stupid, ignorant" mistakes – but some will survive, thrive, and come to dominate the insurance industry.
What does this mean for you?
Your company tomorrow will be a lot different than it is today.  If it is around tomorrow.