62,000 moms, dads, kids, friends, uncles, aunts died from drug overdoses last year.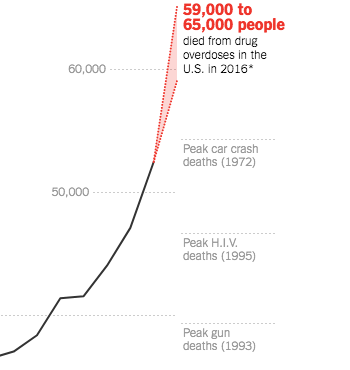 Thank you, opioid manufacturers.
Let's be very clear – this would not be happening if the "legitimate" pill pushers hadn't co-opted, bribed, lied, and sleazed, funded fake patient advocacy groups, paid hundreds of millions to lobbyists, all in the name of profit.
This is going to get a lot worse – and there is NO indication it's going to get better.
Drug overdose deaths are skyrocketing in Maryland, Pennsylvania, Maine, and Florida. Researchers estimate Ohio's death rate jumped by 25% last year.
The drugs users are taking are so powerful that Narcan – the "get out of jail free" injectable antidote – is becoming increasingly impotent. "E.M.S. crews are hitting them with 12, 13, 14 hits of Narcan with no effect," said Mr. Burke, likening a shot of Narcan to "a squirt gun in a house fire." (NYTimes)
More than two million of us are addicted, and over a quarter of us used prescription painkillers last year. That's more than used tobacco.
States are suing opioid manufacturers in an attempt to recoup some of the billions of dollars this disaster is costing taxpayers, as well they should. But those efforts are happening at the same time the FDA is approving new "abuse deterrent" opioids.  FDA Commissioner Scott Gottlieb is focusing on opioids, which is a very good thing. And truth be told, today's FDA has pretty limited ability to address the problem, in large part because drug manufacturers are going to make damn sure the FDA's powers stay limited.
Over the last decade, opioid manufacturers spent close to a billion dollars on campaign contributions and lobbying against state laws limiting opioid prescribing. That's eight times more than the NRA and the gun lobby.
Sounds like a lot of money, right?
Nope – according to Business Insider, in 2015 alone, Purdue, the manufacturer of Oxycontin, made $2.4 billion from opioid sales.
You may recall Oxycontin was marketed as "abuse deterrent"; Purdue told Business Insider last year "We support policies that align with the FDA and The White House's view that opioids with abuse-deterrent properties are a public health priority."
They are certainly a profit priority.
What does this mean for you?
You know someone who's died, a family destroyed, lives ruined by opioids. There are more coming.