OK, let's set aside the partisanship to objectively consider that question.
Senate Republicans are writing a bill in secret that would:
change one-sixth of our economy,
cause at least 20 million Americans to lose health insurance,
eliminate thousands of jobs in healthcare, and 
significantly change the insurance many of the rest of us have.
Many Republican Senators have yet to see the bill. HHS Secretary Tom Price has not seen the bill. The President has not seen the bill. The Wall Street Journal is upset with the process. The Conservative Review reports Orrin Hatch (UT), the second-highest ranking Republican Senator hasn't seen the bill.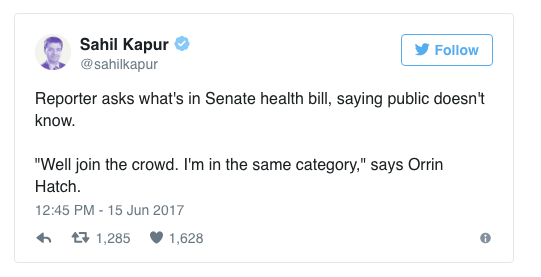 Senate Majority Leader McConnell has crafted a process to repeal-and-replace ACA that:
eliminates Senate requirements for debate,
doesn't allow members of his own party or any Senate committee to review the bill before it hits the floor, and
avoids an accurate assessment by the Congressional Budget Office.
When ACA was passed back in 2009, there was:
25 days of open public debate on the floor of the Senate
13 days of open committee hearings
consideration of hundreds of amendments
months of meetings of the Gang of Six – three Republican and three Democratic Senators
Then-Minority Leader McConnell had this to say about ACA's passage in 2009:
"This massive piece of legislation that seeks to restructure one-sixth of our economy is being written behind closed doors, without input from anyone, in an effort to jam it past not only the Senate but the American people…"
What does this mean for you?
Are you OK with this?