We are getting very, very close to retiring the ACA Deathwatch meme.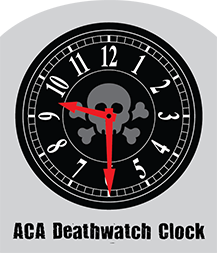 With last night's news that two more Republican Senators won't support BCRA, the Republican Repeal-and-Replace bill, efforts to kill "Obamacare" are dead.
Yes, there will be a move to pass a repeal only bill – they will fail, for the same reasons the BCRA died;
deep divisions within the Republican Party,
a keen understanding by many Senators that BCRA would crush their core supporters and lead to a revolt; and
Congressional Republicans have yet to make the transition from a party of opposition to a party of leadership.
I predicted this back in December, doubled down in May, and repeated that prediction after the House passed the AHCA. This wasn't some amazing insight, rather a careful reading of the bill, and an understanding that taking something very valuable, very personal, and very important from people is political suicide.
So, what now?
Nothing much is going to happen with healthcare in Congress for some time.  That's too bad, as ACA needs fixing – namely:
enforcement of the mandate;
guaranteed full funding of the Cost Sharing Reductions that help lower-income Americans pay deductibles and co-pays;
allow us older folks to buy-in to Medicare, thus reducing insurers' risks
This would go a loooong way to giving certainty to insurers, certainty that would lower premiums and stabilize markets.
For now, my sense is Congress doesn't want to hear smell see or taste anything healthcare-related for a long time.  There will be lots of politicking from the right about "Obamacare's death spiral" and the left on GOP's complicity in same.
What does this mean for you?
The good news is this horrible bill didn't – and won't – pass. 
The bad news is worse – nothing is being done about the core problem with US healthcare – it costs way too much.