Today's announcement that Amazon, Berkshire Hathaway, and JPMorganChase are forming a new entity to deliver health benefits to their workers may well be the harbinger of massive change to come.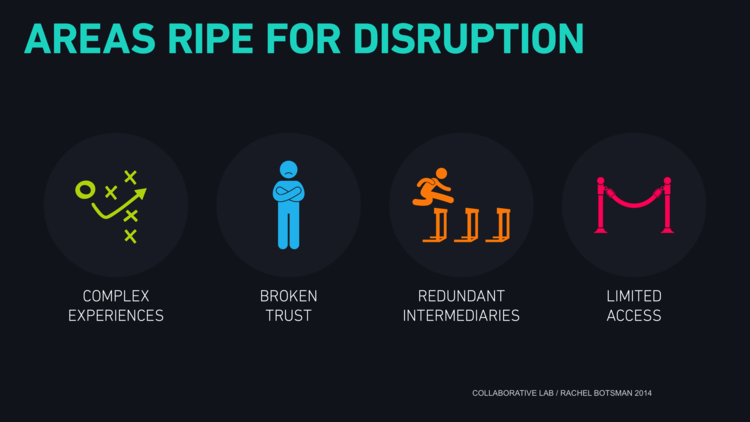 credit Collaborative Lab, Rachel Botsman
While many details are to be determined, the new company will be:
"free from profit-making incentives and constraints" and
"The initial focus of the new company will be on technology solutions that will provide U.S. employees and their families with simplified, high-quality and transparent healthcare at a reasonable cost,"
Here's what I see as key factors.
These three giants have intimate knowledge of health insurers and healthcare providers. The biggest takeaway is they have determined insurers and providers are not performing today, and will not perform tomorrow.
Amazon is a delivery machine – and knows way more about us than we do. The company knows logistics better than any other entity; it is also a world leader in analytics and "behavioral understanding." Add in the Echo, and it's current presence in and knowledge of tens of millions of American homes is a huge asset.
JPMorgan Chase is a financial empire that deeply understands investments, financial drivers, banking and fund flows. It has massive capital – $2.5 trillion in assets – a giant consumer banking enterprise, and brilliant people.
Berkshire Hathaway is huge, diverse, enormously well regarded, and very well run. BH brings perhaps unmatched management capability to the partnership, as well as multiple insurance assets staffed by people who understand risk.
Notably, stock prices for healthplan giants UnitedHealthcare, Anthem, and Aetna – and others are down 5 percent this morning, with analysts crediting the announcement for the damage.
It's critically important to note that the companies that have dominated the healthplan industry for decades are, in the view of three dominant firms, not performing. In fact, their performance is poor enough that the three CEOs all noted they don't have all the answers, the implication being they believe they can do a better job than the supposed experts.
The release is here.