Randy Lea MD of the Dartmouth Institute (one of the nation's leading healthcare research organizations, and my personal favorite) just completed research on value-based care (VBC) in work comp – a timely and much-needed project. Dr Lea presented at last week's WCRI Conference.
Here are my takeaways.
Spoiler alert – value-based care is not getting much traction – and I don't think it will.
First, the research was more of a survey of what stakeholders want, expect, can do, and think is necessary to bring VBC than a detailed description of what actually exists today. In that way, it's helpful as it indicates what factors may/will lead to more VBC in work comp.
As much as I respect the Dartmouth Institute and appreciate Dr Lea's insights, I found the presentation hard to follow. There was just too much information crammed into too little time.
Stakeholder readiness
Providers – only one engaged in a WC VBC pilot program; many were prepared and waiting, but "there's no opportunity for them to engage at this time."
Payers – only one is doing VBC – and that is bundled payments. Payers were more focused on high-performing networks, not real VBC. Also doubt the model will be sustainable.
Regulators – again, only one doing VBS, that one has seen positive results, and is ready to expand. access, quality, and are coordination. Not much going on, but many are at least thinking about it.
Now into the meat – their thinking about how VBC might actually occur in workers' comp.
Conditions that were popular for inclusion in a VBC model included spine, shoulder, knee, CTS, and co-morbidities plus the condition.
First, we need a regulatory environment that is favorable to VBC. No surprise here, although all recommended employer direction, mandated medical treatment guidelines, reduced fee schedules (?!), reduced UR.
Second, providers need enough patients.
Third, there was a lot of concern around RTW, causation, and impairment and who is involved and how decisions around those key issues will be made and on what basis.
Development guidelines
Need a set of values that are shared by the stakeholders that guide development
Rewards for good performing providers
Transparency across all stakeholders
Outcomes focused, not discount-driven
Adaptability to current programs and regulatory conditions
Fair and quick reimbursement of providers
Reimbursement based on guidelines and compliance w MTG
Eliminate fee schedules
Need real steerage of patients
Tight definition of outcomes is mandatory, need real specificity around things like RTW.
Payment types – participants reviewed a variety of types of reimbursement, with most payers looking for bundled payments  – no surprise.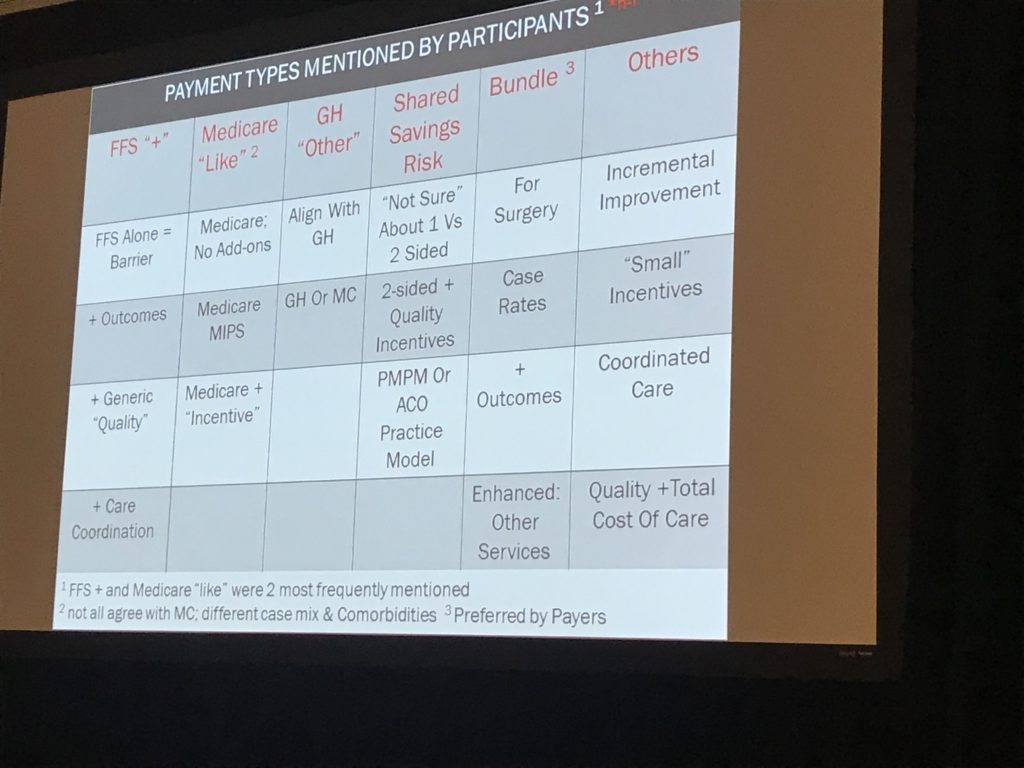 I also have to note that my main takeaway was this – work comp is a couple of decades behind the rest of the world – and it isn't catching up. If anything, we're falling further behind.
I say this because this is some pretty basic stuff compared to what we see in Medicaid or Medicare.
My view is there are any number of reasons VBC is not going to happen in WC.
There are not enough cases; providers won't be interested in risk-taking if there aren't enough cases to spread the risk.
Providers don't have to take risk; in many states there's no or limited employer direction, so no guarantee they'll get a minimum number of cases.
Litigation – providers may have to provide documentation and perhaps testify, something no one wants to risk.
Payers are far too wedded to the percentage of savings profit machine.
What does this mean for you?
Bundled payments aren't really value-based care. And even those are few and far between, for good reason.