We're pushing to finish CompPharma's Annual Survey of Prescription Drug Management in Workers' Comp next week. After cleaning up the data, we've got final figures.
Quick takeaway – we workers comp types are doing a MUCH better job controlling drug usage than the rest of the world  – and MUCH MUCH better controlling opioids.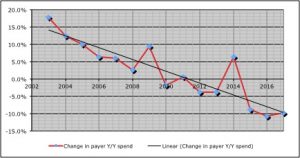 Here are a few key data points:
Total drug spend was down almost 10 percent last year; drug costs are down 22 percent over the last six years
In contrast, other payers' spend dropped 2.1%.
Opioid spend decreased by a third over the last two years.
Other payers' opioid spend dropped by less than half that – 14.9%.
While decreases in opioid spend have been dramatic, payers are still extremely concerned about opioid consumption – especially among long-term patients.
There's a widespread and deep concern among respondents (29 payers of all types) that we're a long way from figuring out how to help long-term opioid users reduce/eliminate their drug consumption.
This year we dug deep into that issue, and one key takeaway is the current regulatory focus on formularies and utilization review is focusing on a problem – initial prescriptions of opioids – that, while not solved, is much better controlled.
Where payers, patients, prescribers, and PBMs need regulatory help is with chronic opioid patients. Respondents had a raft of suggestions…
mandatory urine drug testing done by labs not affiliated with the prescribing physician
prescriber documentation of improvements in pain and functionality required before continuing dosing
allow payers to reimburse for opioid recovery services while eliminating responsibility for non-opioid related psychological issues
What does this mean for you?
Work comp isn't known as an innovative or progressive – yet here you are, well in front of other payers and work comp regulators.
Well done.