Claims counts are continuing to decline. That's good news for employers and taxpayers, but not-so-good news for the businesses that service claims.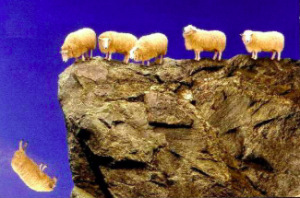 Ok, counts aren't falling as fast as that sheep, but you get the point.
Here's what this means for you and others…
For TPAs – Good news indeed – as counts decline, more insurers are choosing to have TPAs handle more of their claims. That new business is great, but…
That "but" is this – the claims business is going to become ever more competitive.  TPAs are going to have to get a lot more creative than figuring out new ways to charge for bill review and network access. Predictive modeling, narrow network development and operation, outcomes assessment are all paths to take. But become especially adept at taking over claims, because…
Smaller claims staffs = more flexibility for insurers and lower admin expenses.  It is much easier for carriers to adapt to changing markets when they don't employ their own claims staff.  It also keeps their unallocated loss adjustment expenses lower, allowing them to be more competitive.
Those carriers also don't have to worry (as much) about investing in new systems, processes, applications or technology when the claims are handled by a third party. This addresses one of the biggest problems in work comp – insufficient (to be kind) IT budgets.
Service companies – investigations, case management, peer review, IME, you name it – are all fighting over a shrinking pie. In this very-mature market, there just isn't enough business for everyone, so competition is brutal.  Margin pressure, the buying power and IT security resources of very large competitors, the increasing demands made by large buyers are making it tough for smaller suppliers to grow and expand.
Technology firms – bill review, UR, claims and others – are kind of in the middle. If their tech can reduce expense and be implemented with a high chance of success and relatively low expense, they may do well.  But these companies recognize that IT budgets are tighter than ever, and they MUST be creative around pricing, be clear about deliverables and assume as much of the implementation and maintenance as possible.
Brokers and consultants – you've got a choice to make. Either skate along, get carriers/TPAs/vendors to cut prices to the bone, and show your employer clients what a great job you've done…or keep pushing for value – fewer injuries, faster return to functionality, lower total claims costs, lower medical expense.
What does this mean for you?
Success favors the prepared.