Yesterday we gave a brief overview of Medicare – the various parts and pieces.
Today – what exactly is the plan, who would pay for it, and how much would it cost?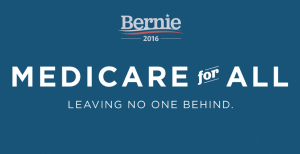 Sen. Bernie Sanders, (I VT) is the original MFA (Medicare for All) advocate, and most other candidates echo his plan – which is pretty simple:
Everyone is enrolled in MFA
No one pays copays or deductibles
You can choose any healthcare provider
It isn't really "Medicare" for all, but rather a simple "everything is covered" plan
Funding would come from:

higher taxes on high-income earners
re-instatement of the estate tax
payroll tax of 6.2% for employers
2.2% income based premium for individuals and families
taxing capital gains as ordinary income
repealing tax exemption for premiums etc.
There's been a lot of press about this, with claims and counterclaims muddying the waters  – but the net is this:
Sanders' plan would enroll pretty much everyone.
The plan would save costs by:
reducing total provider compensation by 11% – 13% (physicians make a lot more money here than they do in most other countries)
it would do this by setting flat reimbursement rates – today employer plans pay about 40% more than Medicare, and much more than Medicaid (generally speaking).
However, reimbursement would be higher than today's Medicaid rates.
MFA advocates note that administrative costs would be a LOT lower, as doctors and hospitals wouldn't need the big IT operations and personnel required to track down payers and get reimbursed
MFA would be phased in over four years.
What would it cost?
That's a tough one – the CBO won't score it.
One Koch-funded research center came out with a report that said it would A) cost $32 trillion over ten years, and B) reduce total US healthcare costs by some $2 trillion while covering 30 million more folks. (yes, this was Mercatus' higher estimate, but they fudged other numbers to make costs look higher, so I'm going with that figure)
Bernie and other advocates, claim savings would be higher – so the total cost would be lower.
However you slice it, you have to remember that employers and individuals would no longer be paying over a trillion dollars for healthcare every year via payroll taxes and premiums and deductibles and copays.
And yes, you'd save a lot of money by reducing provider reimbursement to Medicare rates.
Who and what gets disrupted?
Insurance companies. It isn't clear who would administer this program, perhaps the current companies that handle much of Medicare. However, many or most commercial health plans, Medicare Advantage plans, Managed Medicaid plans (disclosure I am on the Board of one – Commonwealth Care Alliance) would shrink or disappear entirely.
Revenue Cycle Management – this huge industry would become obsolete overnight.
Millions of workers – no longer needed to handle the morass of regulations and insurer requirements
Pharma – Bernie would negotiate with pharma and medical device companies – as every other country does – to get the lowest possible prices.
Brokers and consultants. Ouch.
Remember – the US healthcare system is enormously inefficient, overall delivers mediocre-at-best results, and is not sustainable.
What does this mean for you?
Opponents of MFA would be well served to come up with a better answer than MFA, because that MFA is getting traction.