Here's why.
China can outlast the US.
China's leaders aren't afraid of public pressure to give in to Trump.
Despite claims to the contrary, the impact of tariffs on US consumers is being felt – and the pain, while minimal today, is growing.
The tariffs, intended to bring back manufacturing jobs to the US, are actually forcing US manufacturers to find other Asian countries that will make the same stuff China currently exports.
Agriculture is getting hit hard. China used to buy about $20 billion of our agricultural exports; that number is down significantly.  Retaliating against the Administration's initial and follow-up tariffs, China increased tariffs on pork to 70%, effectively locking US producers out of a very lucrative market.
The price for soybeans, one of our largest exports, is down about 20% over the last six months.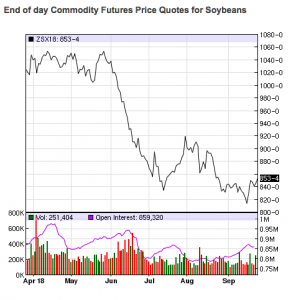 source Nasdaq
The US is the largest soy producer in the world,  and China used to be our biggest export market.
As a result of the Trump tariffs, China is buying its soy, pork, corn, and other products from other countries, entering into long-term contracts with planters in Brazil and Argentina and elsewhere. While some will claim they'll switch back when the trade war is over, that's highly doubtful given the unpredictability of the Trump Administration.
The trade war is a double whammy for ag equipment manufacturers; steel and aluminum prices are up substantially, while demand for their equipment is down because farmers' finances are on shakier ground. Certain types of steel commonly used in ag equipment is only made in Canada or Mexico, so equipment manufacturers have no choice but to pay the 25% tariff.
It's not just agriculture.
The US imports more steel than any other nation; over 34 million metric tons last year alone. When manufacturers have to pay more for steel and other materials, they pass that on to their customers. So, prices are up, which may well drive down demand.
A Federal Reserve analyst looked at the impact of the tariffs on manufacturing; the results are troubling.
"all industries within the U.S. manufacturing sector source at least 10 percent of their intermediate inputs internationally. And, at the high end, the motor vehicles, trailers, and semitrailers industry sources about 30 percent of their intermediate goods from abroad."
Here's the takeaway.
U.S. firms that can will pass these higher costs on to the consumers of their products, leaving those consumers less money to spend elsewhere after paying higher prices for the goods affected by tariffs. Firms that cannot pass the costs on will, at best, have less cash flow to invest and expand in the U.S., or, at worst, will become unprofitable, lay off workers, or potentially go out of business. These tariffs increase production costs for U.S. manufacturers, placing them at a competitive disadvantage, and will, on net, destroy more output, wages, and employment in the United States than they create. [emphasis added]
What does this mean for you?
The trade war will likely:
drive down manufacturing profits
hurt the entire agricultural industry
reduce consumer demand for all goods and services
For work comp folks, we know that recessions lead to higher initial claim frequency, followed by longer-term disability duration.
Things look good now, after a 10 year economic expansion.
That will not last, and when it ends, it will be ugly.