Has any workers' comp insurer, excess carrier, or state fund, any self-insured employer sued opioid manufacturers, distributors, or dispensers?
Have you?
Generic opioid manufacturer Teva just settled a lawsuit with  Oklahoma, paying the state $85 million. Purdue Pharma – in my view the worst company in the world – had already agreed to pay $270 million –  $70 million from the founding Sackler family's coffers. Next up is Johnson and Johnson subsidiary Cephalon.
Sounds like a lot, right? Well, no.
The annual cost to the rest of us – in taxes, insurance premiums, lost wages, higher drug costs – is in the hundreds of billions of dollars ANNUALLY.
Meanwhile, a massive lawsuit involving 1600 cities, counties, other governmental entities, and Native American groups is headed to trial later this year in Ohio.
And, Massachusetts' Attorney General Maura Healey's suit against Purdue is pending. The massively detailed complaint is comprehensive and terrifying in its detail; here's the AG's record of the billions the Sacklers made from OxyContin.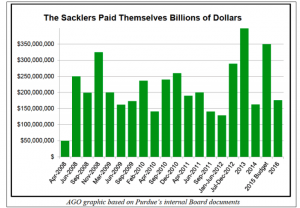 I've asked dozens of work comp execs about this, and with a couple of exceptions, none have reported they are suing anyone in the opioid business.
Why not?
Is it because it's too much work?
Or insurers don't really care as they can just increase premiums to pay opioid-related costs?
Neither is remotely acceptable.
Workers' comp payers – all of you – have a fiduciary responsibility and an ethical and moral duty to recover as much money as possible for their policyholders from the companies and people who've addicted, killed, and destroyed work comp patients. Those dollars should go back to the taxpayers and employers harmed by the opioid industry.
What does this mean for you?
Yes it's going to be hard. Stop making excuses and start doing your job.