Yesterday's executive order by President Trump requires HHS to develop regulations requiring healthcare providers and insurers to publicly post the prices paid for healthcare.
According to Trump, this is "a giant step towards a heath care system that is really fantastic."
Let's talk about what this means for you.
First, there's enough wiggle room in the order to make the slinkiest of snakes comfortable. For example, there are no specific requirements about what information doctors, hospitals and insurers have to disclose.
Second, the executive order itself has no force of law.
Third, if prices are ever posted, patients won't know what they – the patient – have to pay. The order discusses posting what insurance companies have agreed to pay for a procedure – not what the patient owes.
Fourth, there's no conclusive research finding that publishing prices reduces overall cost – or even affects consumer behavior. But there is research indicating patients don't use data to find lower cost care.
Fourth-and-a-half, despite what the President claims in his Executive Order most healthcare services aren't "shoppable". If your spouse has chest pain, you aren't going to wade thru some government database to find the lowest cost heart surgeon. Plus, you aren't walking in with a shopping list of specific procedures – you'll get the procedures your doctor orders, and you won't be in any position to go to one hospital for an MRI and another for anesthesia.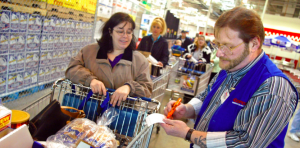 I see you want an MRI, an appendectomy, one assistant surgeon, 2 units of blood, and 5 visits from random doctors.
Want proof?…about one healthcare dollar out of twelve is spent by patients on shoppable services.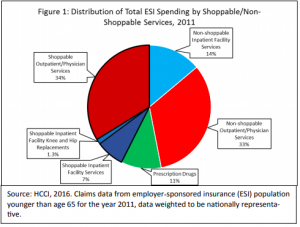 Fifth, pricing agreements are proprietary, negotiated between insurers and providers. Both are now arguing that publicly disclosing those private, confidential contracts will result in higher prices as providers – who now have pricing power over insurers in many markets – find out how much their rivals are getting paid.
Sixth, credible research shows that prices increase when suppliers and buyers have to disclose prices. From the NYT:
The Danish government, in an effort to improve competition in the early 1990s, required manufacturers of ready-mix concrete to disclose their negotiated prices with their customers. Prices for the product then rose 15 percent to 20 percent.
The reason, scholars concluded, is that there were few manufacturers competing for business. Once companies knew what their competitors were charging, it was easy for them to all raise their prices in concert. They could collude without the sort of direct communication that would make such behavior illegal.
Seventh, most healthcare spending is for patients with multiple chronic, and expensive, health conditions.  Think high blood pressure, asthma, depression, diabetes, cardiovascular disease.  These folks blow thru their deductible in March. After that, their healthcare is free to them, so they don't care what the cost is.
Eighth, any regulations will take years to develop, and will be subject to endless lawsuits. Too bad the attorneys don't have to post their prices…
What does this mean for you?
This is political grandstanding and will have zero impact on healthcare costs – or what you pay for insurance premiums.
But is sure is easier than actually doing something to improve our healthcare system and lower your costs.
Spoiler Alert – Oh, and the Executive Order adds a whole new layer of bureaucracy and reporting requirements, which will increase healthcare administrative expenses.