I think it's only fair to allow One Call to tell their side of the story. So, here it is.
Yesterday One Call execs had an off-site meeting and subsequently released a letter to customers extolling the successes the firm is having; landing new customers, rolling out Polaris, improving patient experience, and really improving customer satisfaction.
Oh, and OCCM is fully compliant with its debt covenants and is meeting its financial obligations.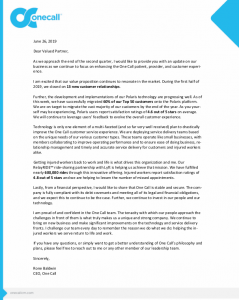 Allow me to make a few observations.
First, current financials will not be reported until some time after June 30 – two days from now – so Mr Baldwin is technically correct when he states that OCCM is "fully compliant."  Until those financial results are reported (likely mid July, or in two weeks), the debt holders don't know if OCCM is or is not in compliance; Q1 financials indicated OCCM was compliant – if barely so.
Second, congratulations to OCCM on landing "13 new customer relationships." Not to be too picky, but I don't know if that is expansions of existing relationships – say by adding transportation to an existing customer relationship, are entirely new customers, expanding from a one-state contract to multiple states, or what exactly.
Third, Mr Baldwin didn't mention that Broadspire, Nationwide, and several of the Great American companies have terminated or are terminating or drastically reducing their business with One Call.
I do not envy Baldwin and the folks at One Call; they are in a very difficult position which Baldwin stepped into long after the die was cast. OCCM is loaded down with a huge and growing debt burden, has spent millions on an IT system that – in my estimation – will not improve customer satisfaction, and is trying to compete with other suppliers that are nimble, deliver excellent customer service, and aren't trying to be all things to all people.
With the exception of Eileen Auen, Peter Madeja, or Mike Ryan I don't know any leader who could salvage the situation. And even those august personages would face the greatest test of their prodigious talents.
But here's the really awful thing – even after recent layoffs, OneCall still has thousands of employees who will be affected by this. They had nothing to do with the sale of various predecessor companies, the ridiculous debt, the frankly stupid decision by Apax to put the company together in the first place, the investment of millions into an IT system that could well be too little, too late.
Yet the folks who do the work every day are going to be the ones most hurt.
That sucks.
What does this mean for you?
Fortune favors the prepared. (borrowed from Louis Pasteur)