In which I attempt to describe the top takeaways from the latest research and what it may mean for you.
Work comp pharmacy 
WCRI's latest report on Interstate variations on Dispensing of Opioids is available; free for members, nominal cost for non-members.
The volume of opioids dispensed to work comp patients decreased "substantially" in many of the 27 states studied.
17 states saw average MED reductions greater than 30%.
BUT – problems persist as MEDs are highest in Delaware and Louisiana, where MEDs per patient are 3 times greater than the median.
There's been a decrease in the percentage of patients prescribed an opioid, with strong evidence that non-opioid medications have been substituted.
Key takeaway
Using your data to highlight problematic states – and regions within states – is critical to understand what's driving opioid usage among your patients.  The industry has done a great job reducing opioid usage but can make a LOT more progress by figuring out the commonalities among chronic opioid consumers.
NCCI's just released a report on the impact of formularies on work comp pharmacy, comparing what happened in Arizona and Tennessee after implementation of a closed formulary to similar states that didn't adopt a formulary. Note the research was based on data from mid-2017.
Findings included:
"N" drug utilization dropped more in the two states than in comparable control states
The volume of opioid scripts wasn't affected by Tennessee's formulary implementation however it appears that there was a decrease in longer acting and likely more potent varieties.
Compounds dropped dramatically in TN compared to similar states
Key takeaway  
Opioids have been the biggest driver of formularies; this report's finding that in these states there was little change in the patients prescribed opioids is revealing.
I'm not a fan of binary formularies; they are the bluntest of instruments. While they may serve an initial good: they reduce the use of drugs that are usually inappropriately prescribed, they are not disease-state and/or patient-specific. Sure, Y/N formularies are easy to use; so's a bone saw and ether.
We've moved beyond bone saws and ether, and need to do the same with formularies.
Future-casting
More thought-provoking work from NCCI focuses on the impact of enhanced vehicle safety systems and workers comp. Quotes of interest include:
NCCI data shows that driving-related classifications account for approximately 25% of all WC payroll and about 50% of WC premium.
a forward collision warning system coupled with autobrake can reduce front-to-rear crashes with injuries by 56%
a 25% to 75% reduction in the frequency of claims related to MVAs [motor vehicle accidents] could yield an annual WC system savings of between $1 billion and $4 billion.
Key takeaways
With all the talk about autonomous vehicles, we may have missed out on a bigger and nearer-term sea change. Mostly-autonomous vehicles won't likely be common for some time, but many of today's car models come with lane-following, collision warning, autobrake and other accident-avoidance technology. 
We need to understand the impact of these "interim" technologies on MVAs and associated claims.
Who costs what?
New research from the Kaiser Family Foundation shows who we should be focusing on helping. Just 1.3% of patients rack up almost 1/5th of all medical costs; 5 percent of patients account for half of all costs.
Findings:
people with persistently high spending (over the three years) spend 40% more on outpatient services than folks who are high spenders for just one year.
persistent high spenders spent a lot on drugs – as in 8 times more than one-year high spenders
it appears the one-year high spenders were trauma or other one-time issue patients, as they spent a lot more than persistent high-spender on inpatient services.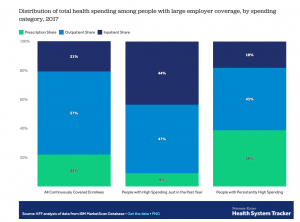 Key takeaway – the chronic patients cost the most over the long term – and are also likely to have the most modifiable health conditions.