Yesterday we dove into Haven, the healthcare company formed by Amazon/JPMorgan/Berkshire Hathaway.  Today, we discuss the potential implications for workers' comp.
Based on what we know so far, there are two ways Haven might impact workers' comp.
Before Haven can affect WC, it has to become a viable entity of some significant size. Some skeptics don't see that happening, citing the Byzantine complexity of the US healthcare (non)system, the size and scale of the medical-industrial-financial complex, and the bewildering maze of laws and regulations.
Those are excellent points; I'd suggest critics may be making assumptions that aren't necessarily appropriate. Haven may well create a "de novo" healthcare delivery and financing system, leveraging the employee population, intellectual capital, technology, financial capabilities, and buying power of its owners.
If Haven becomes the healthcare delivery platform for the hundreds of thousands employed by its three owners, those employers would likely use that platform for occupational injuries and illnesses. That would enable seamless integration of care, reduce the risks inherent in the siloing of care between comp and group health, and likely upgrade non-occ disability management as well.
Efforts to deliver 24 hour care have fizzled as the opportunities inherent in integration couldn't outweigh the legal, regulatory, cultural and political realities. It's possible that Haven could eliminate much of these obstacles by starting fresh.
So that's the big change.
More likely – and much sooner, is the potential for Haven/Amazon to provide drugs, supplies, and DME to work comp patients.  The companies' push into pharmaceutical manufacturing and distribution, and distribution of medical devices and supplies means it has the supply piece in place; next step is building the distribution channels/pipes into work comp payers.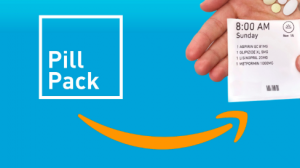 The total work comp drug/supply business is likely less than $6 billion, a relative pittance compared to the half-trillion plus dollars in revenue the three partners will enjoy this year. And, once those pipes are built, Haven will figure out how to generate more revenue.
If anyone can do this it's Haven/Amazon.
What does this mean for you?
Service providers need to double down on service and be that indispensable partner.