Today, I'm going to convince you that despite years of continued decreases, work comp premiums are still too high.  And will likely remain too high for the next few years.
That's how long it will take the impact of reduced opioid consumption to work its way through comp financials. Sure, continued declines in frequency and high employment along with declining worker benefits are also factors – but I'll argue what's way more important is the drop in opioid prescriptions.
A decade into this, the dramatic drop in work comp opioid prescriptions is continuing unabated.
CompPharma's 16th Annual Survey of Prescription Drug Management in Workers' Comp [free to download] shows payers have slashed opioid spend by 40% over the last two years.


myMatrixx [HSA consulting client] reported a 15% drop in opioid spend in 2018.
Optum Workers' Comp reported a 2.9% reduction in opioid spend for the first half of 2019 compared to the first half of 2018.
CWCI's just-released report analyzes data from lost time claims incurred between 2008 and 2017:

the percentage of claimants receiving opioids dropped 51% over that time period
chronic opioid use dropped by 77 percent, from 13% of claimants to 3%
acute use declined by 40 percent
My key takeaway from CWCI's report isn't the drop in opioid usage, it is that claims without opioids are much less costly, therefore the drop in opioid prescriptions is driving lower claims costs.
Those reductions have yet to be fully factored into work comp rates – so rates will continue to drop.
Key data points:
Average benefits for claims without opioids were 30% less than for claims with opioids (at 12 months).
Claims without opioids had 25% fewer TD days than claims with opioids.
The net – "Cumulative savings from the decline in opioids are projected at $6.5 billion for 2010 – 2017 claims."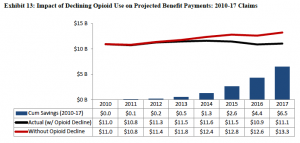 Report authors Steve Hayes, Kate Smith, and Alex Swedlow provide suggestions for actuaries on page 15 and in Appendix 4.
What does this mean for you?
Rate reductions haven't caught up with the reality on the ground. 
Barring major unforeseen events, work comp rates will continue to drop for several more years. 
For those so inclined, an extensive discussion of rate-making is here.