The House of Representatives just passed landmark legislation intended to reduce the cost of drugs for seniors.
The bill won't go anywhere, because the Senate won't consider it – and if it does, President Trump has said he will veto it (despite campaign promises to reduce drug costs).
Unfortunately, a bill advanced by Republican Senator Chuck Grassley that would cap Medicare drug price increases will be opposed by Senate Majority Leader McConnell (R).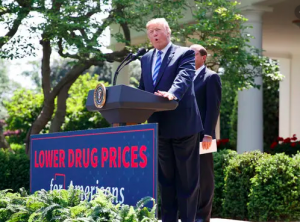 Given the public's focus on healthcare, and seniors' voting power and high level of interest in drug prices, the lack of GOP support is puzzling.  It appears the main objection is reducing what you pay for drugs may result in the development of 8-15 fewer drugs. Over the next decade.
If the House bill became law, Medicare would save $345 billion over six years.
So, seniors would pay less for drugs, taxpayers would save hundreds of billions of dollars, and we may not get one new drug per year.
Only in a government ruled by pharma lobbying would this make sense.
What does this mean for you?
Once again, big business wins, and you lose.