The time to shut the country down is now. The infection rate just increased 5-fold in 4 days; if that continues, by Wednesday – 4 days from now – there will be 125,000 confirmed cases.
A week from tomorrow there will be 625,000.
Four days later 3 million of us will be infected.
By mid-April, 20 million will have tested positive for coronavirus, and hundreds of thousands will be dead.
Think that's nuts?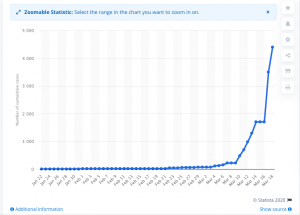 If anything, the actual infection rate is higher than reported – because we still don't have enough testing capacity.
We do not have the medical facilities, staff, or supplies to handle several million COVID-19 cases simultaneously.  Our government has failed catastrophically, leaving every medical provider from the VA to major hospitals to nursing homes desperately short of everything.
No cure, medication, or vaccine exists – and none will be here until this time next year at the earliest, there's been lots of media from irresponsible blowhards.
The latest – chloroquine – has been touted as a "cure" despite a) extremely thin evidence that it is effective in humans; b) it can be fatal; and c: according to National Institute for Allergy and Infectious Diseases Director Anthony Fauci MD, None of the evidence has been collected through a controlled clinical trial, "so you really can't make any definitive statement about it."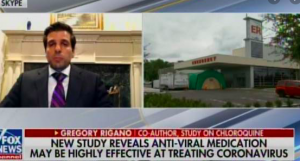 This guy is NOT a medical doctor, he is NOT an "adviser" to Stanford University, the "research" was self-published and does not meet ANY standards for credibility.
All this is why we have to flatten the curve. If not, tens of millions more will be infected, the death rate will rapidly increase, and over a million will die.
If you detect more than a bit of anger here, you're right. Two family members are nurses, both desperately struggling to prepare for the coming tsunami of cases. One is quarantined because there isn't enough protective equipment, the other exhausted from days of overtime. And both know it will get a whole lot worse before it gets better – and that is terrifying.
The government won't take responsibility, so we have to. Stop socializing. Go out only when you absolutely have to – and then act like everyone else has Ebola.
Wash your hands. Check on your neighbors, shop for those who are high-risk, call your family members and friends, and don't panic.
It's not all bad.  The response from regular people looking to do whatever they can to help out has been nothing short of wonderful. A local business here is using 3-D printing to manufacture face shields because there aren't enough in emergency stocks (the owners are good friends).
And keep working at your regular job. It's hard to focus…it's also essential.