Ignore anyone who says we'll be back to normal by this date or that.
The problem is straightforward –
we don't have enough data,
far too many people are still doing stupid stuff, and
there's still way too much happy talk from people who should know better.
Testing is only now ramping up – six weeks+ into the COVID era there have been less than a million tests in the US; we lag well behind other developed countries in the percentage of residents tested.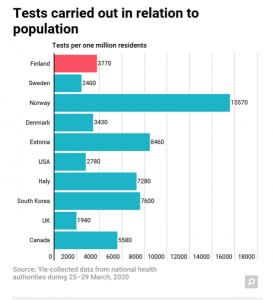 The painful reality is the government's repeated missteps and screwups have left us in the dark about the real dimensions of the spread of COVID19.
Where are we today
We don't have current, accurate data from an official governmental source on the actual number of COVID19 tests that have been conducted. The CDC's own database reports a drop in the average daily number of tests since March 17 – but that doesn't include all tests.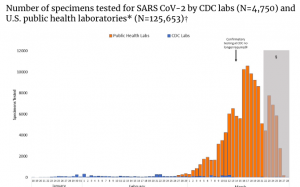 Fortunately, there's a volunteer project documenting the test count and other key statistics; you can keep updated here. Pretty impressive effort, with data quality ratings as well so you can determine for yourself your level of comfort with the accuracy of the count.
As of 6:42 am eastern yesterday, there were 851,578 tests reported in the US, with 141,232 positive.
As of 6:42 am eastern today, Tuesday March 31, the Covid Tracking project reported 956,481 tests, with 162,399 positive.
Again according to the Covid tracking project, as of 7 am eastern yesterday March 30, 19,839 patients were hospitalized and 2,447 died.
The hospitalization count increased to 22,490 (13%), and the death count increased 21% to 2,981.
Another leading source is Johns Hopkins University; it's numbers are slightly different than the Covid Project (143,055 positives and 2,513 deaths as of 6:11 am eastern yesterday March 30).
I'll let you ponder why a group of volunteers and a university are able to do a better job tracking these data than the nation's disease tracking institution. (fortunately the Trump Administration, which just three weeks ago had sought a $1.2 billion cut to CDC 's budget – and an additional $452 million cut to National Institute of Allergy and Infectious Diseases (NIAID)'s budget – changed it's mind.
Then there's the report from Wuhan China (the apparent originating location for coronavirus that 5% – 10% of people who a) tested positive, and b) recovered, have now tested positive again.
Communities and institutions that aren't taking tough measures to control exposure are getting hammered.
Elected officials and many citizens of Fort Myers, FL listened to politicians, not scientists, keeping beaches, restaurants, and a casino open despite warnings. In a county where 30% of residents are over 60, only about 4 out of 10 residents complied with isolation guidelines last week. This may well have devastating consequences – so far there are 171 confirmed cases and 6 deaths in Lee County. with 40 hospitalized.
Those totals will certainly increase.
Many residents of The Villages, a retirement community in central Florida, ignored pleas to avoid socializing; 29 have tested positive as of last Friday.
Liberty University was one of the very few colleges that invited students back to campus after spring break; not surprisingly some showed COVID19-type symptoms, and at least one has tested positive. Yesterday Liberty President Jerry Falwell disputed some of the Times' reporting; note earlier Falwell dismissed COVID19, comparing it to swine flu and inferring it was a North Korean plot or an effort to harm President Trump.
What does this mean for you?
I bring these to your attention to note that coronavirus doesn't care about ideology; social distancing reduces infections and saves lives; not enforcing social distancing increases infections and kills people. Places like Ft Myers and Lynchburg VA (Liberty University's location) – and the people who live there – will suffer from COVID deniers' decisions.