COVID's biggest impact on workers' comp has not been from the disease, but rather from efforts to control its spread and the resulting impact on the economy.
35 workers' comp insurers, state funds, TPAs, and service providers and large self-insured/self-administered employers took part in our second Survey of the impact of COVID-19 on Workers' Comp. Payers have received about 33,000 COVID-19 claims to date and accepted just over 1/5th of all claims filed.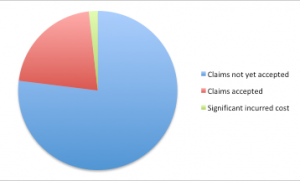 While there are major differences in claim acceptance policies across the respondents, by far the most common reason claims have not been accepted is a lack of a diagnosis, no symptoms, and/or a negative test for COVID19.
The "non-COVID" effects include:
a drop of 25% to 50% in new injury claims since the outbreak,
slower return to work due to an inability or unwillingness to access care and/or adjudication processes, and
respondents' estimate that 2020 will end with a 20% decrease in the total number of claims.
For payers with large books of small businesses, retail, hospitality, and travel the picture so far is grim, with most expecting major declines in premiums.
The good news is the cost of COVID claims remains pretty low, with most accepted claims resolving with minimal expense. A relative handful have been quite expensive (>$200,000) due to costs associated with ICU and ventilator care.
The big winner is tele-everything. The big service providers all reported massive increases in tele-rehab, tele-triage, and tele-medicine visits with most indicating they expect this to persist after we are through the COVID19 pandemic.
As I work thru the data we'll be publishing more details; a public version of the report will be available in about 3 weeks.
What does this mean for you?
This will be a very tough six months. The big decline in new claims and drop in premiums will have knock-on effects throughout the industry and every stakeholder.