Here's what's puzzling me about agricultural workers, COVID infections, and workers' comp.
Few agricultural workers have filed WC claims for COVID.
COVID infections are much more prevalent among Latinx than any other ethnic group.
News reports indicate workers infected with COVID have spread the virus to family and co-workers
Infection rates in the ag heartland in the Central Valley are much higher than in population-dense urban centers.
Here's the data.
Latinx people are much more likely to contract COVID19 than any other ethnic group – more than twice as likely as White people.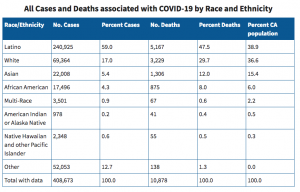 Agriculture employs a lot of Latinx folks; average monthly employment was 422,000 in 2019 (downloadable files).
About 45% of ag workers nationally are Latinx. [if you have data specific to California please share]
So far this year, only 0.2% of California's agricultural workers have filed a work comp claim for COVID19.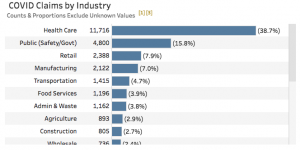 While news reports allege some employers are failing to implement adequate COVID19 safety protections, there's another side to this, one that requires serious consideration.
This from a colleague (edited to preserve confidentiality):
I can attest to the Latino population being hit extra hard.  The reasons are fairly simple.
Number 1 reason:   The work ethic demonstrated by our workforce is hurting them and their co-workers.  The Mexican culture has long had excellent work ethic.  Their mantra is always, "I have to work.  I have to work.  I HAVE to work."  They often do not safeguard their own health as a result.  Many when told they are positive respond with, "Well yeah.  I knew.  I haven't felt good for a week."  Which means that they've been spreading the virus daily.
Another factor for Ag workers is the common practice of transporting workers by vans or small buses.  Probably the worst thing they can do.
We found out most of them refused to comply with wearing a mask.  They'd have them on in front of the supervisor, but as soon as the vehicle left the yard, most all of them would take the masks off.
The third problem is the comorbidity factor of diabetes.  Their diets frequently lead to diabetes.  Every one of our fatalities had instant blood sugar levels of 700+.  Each of the deaths were investigated, and without exception, we found that there had been a diabetes dx years before but they had failed to comply.  Most of the diabetes dx's were for men who refused to ignore or rethink the macho feelings of being able to drink beer and eat as many carbs as they want along with refusing to take meds.
Of course this does not apply to the entire Latinx population.  But it is sadly true of more than half and probably true of at least 75%.
What does this mean for you?
Don't be surprised if we see a significant increase in workers' comp claims from agricultural workers.
Cultural norms and biases MUST be considered, factored into, and made part of any and all prevention solutions.
There are NO simple answers, and all of us are part of the problem – and can be part of the solution.
REMINDER – sign up for Pandemic, Premiums, and Profit: Is it the Sky That's Falling…or the Floor? a free webinar on COVID19's impact on workers' compensation here. Mark Priven of Bickmore Actuarial and I will be weighing in this Thursday at 1 pm Eastern, 10 am Pacific.