Like many, I'm suffering from COVID19 burn out. This weekend's news that more than 200,000 of us have died from the disease was a much-needed kick in the pants; I'll do better keeping track of news – good and bad – about the pandemic and its impact on us.
To start, kudos to the California Workers' Compensation Institute for their excellent work tracking the impact of COVID on workers comp in the Golden State. Their interactive tool is here; takeaways from the latest update (for 2020 to the end of August) include:
CWCI projects there will be 48,000 COVID claims incurred through the end of August
About 13,500 will be denied
Healthcare will account for about 4 out of ten claims accepted
Retail and food services will account for about one of every eight claims accepted
Including both COVID and non-COVID claims, claim counts are down 26% from 2019 levels.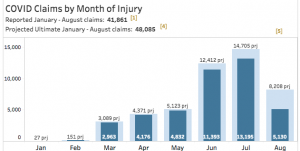 Data
About 200,000 of us have died from COVID19; about one of every fifty of us has tested positive. And the number of infections keeps increasing at a troubling rate, especially in Rocky Mountain states and those just to the East.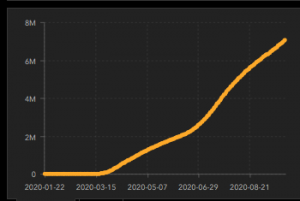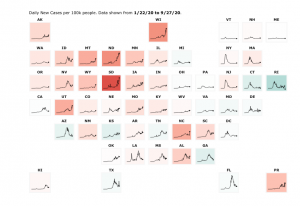 Treatment  – 2 medications are helping infected patients, a couple more are showing promise, and – once again – hydroxychloroquine is NOT on that list.
Vaccines – 11 are in late stages of testing, and 5 are being used in a limited way (there's overlap between these two groups)
WorkCompCentral is hosting a free webinar focused on the impact of COVID19 on Florida's workers' compensation system and stakeholders. The Registration is here; the webinar is tomorrow, September 29 at noon Pacific, 3 Eastern.
Lots more going on – will keep you posted.
What does this mean for you?
Wear a mask. Properly! over your nose AND mouth.
Thanks to Brad James for the reminder.