All hospitals are NOT alike – and there's a quick and highly credible way to identify the facilities highest-rated for quality – and those on the other end of the scale.
The Center for Medicare and Medicaid Services (CMS) has an online tool that allows you to review hospitals' overall Star ratings. CMS uses a 1-5 star rating metric with the more stars the better.
Here's how hospitals within 25 miles of Tampa FL stack up.
The overall rating is based on a set of specific ratings that address key measures including:
clinical outcomes;
patient safety;
patient engagement; and
cost.
There are a number of "sub-measures" that make up each category, one of particular interest may be facility-associated infections and other safety indicators. Information on timeliness and effectiveness of care is here.
You can download data on each and every hospital reporting to CMS or just pick the facilities of interest; the data is here.
CMS just completed a broad and deep assessment of patient impressions of hospital outpatient services and Ambulatory Surgery Centers; you can find results for individual outpatient facilities here and ASCs here.
For those seeking highly credible data on hospital costs, RAND's latest research makes data highly accessible.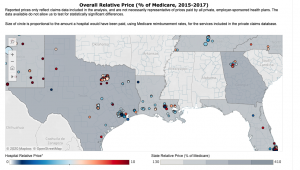 What does this mean for you?
If you aren't assessing facilities' quality, you should be.