First – stay careful and smart – this is NOT the time to take risks; hospitals in many states don't have room in their ICUs or ERs. Drive carefully, mask up (see below for info on the most protective mask), and DO NOT hang out indoors with people outside your "pod".
To that point..
"Excess" death counts are used to better understand the real impact of COVID. In California, the pandemic is not only leading to tight capacity in hospitals, it is correlated with a significantly higher death rate, especially among Blacks and Latinx people.
This isn't surprising; people of color are:
less likely to have health insurance and
thus are in generally poorer health;
more likely to live in urban areas with denser populations;
have less access to testing; and
more likely to work in "essential" industries and in "essential" jobs that place them at higher risk.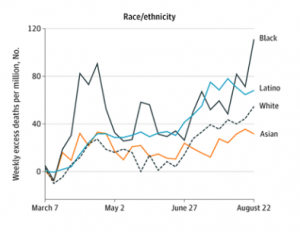 This from an NYC physician:
As a physician in an urban pediatric ED, I have worked with families who fear losing their jobs and medical coverage or exposing their children because they cannot work from home; families who feel abandoned by their primary care clinicians after their offices closed down; and families with language barriers or limited internet access precluding their use of telemedicine services, which are not always covered by insurance.
Also notable – the group that had the highest increase in excess deaths was people under 24 years old.
It's not just California. A national study of excess deaths among 25-44 year-olds showed just over a third were from COVID.
Workers' comp claims
COVID-related claims in California hit an all-time high last month.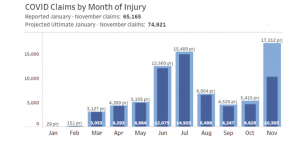 A quarter of all claims in November were COVID-related.
BUT…claims are down by almost 17% for the year.  One out of every six claims disappeared…
double But – only (!) one of every 10 projected claims didn't happen. (claims counts are on a decades-long structural decline)
Other key metrics:
about 1/3rd of all COVID claims are denied
over half of all WC COVID claims are for people under 40
to date, one of every eight claims is COVID-related
CWCI has led the way in reporting, documentation, and accuracy in all things COVID claim related.
Insurance execs are concerned.
As well they should be. The fine folks at NCCI report that COVID is the top concern amongst the insurance execs they polled.
I still don't get fears about  presumption (the number 2 concern). COVID claims are cheap, resolve relatively quickly, and rarely become cat claims. Yes a very small percentage of patients may become Long Haulers, but even then they don't/won't represent a lot of dollars.
Concern about rate adequacy is even more puzzling.  Rates have been too high for years, driven largely by declines in opioid-related costs and disability. While that may change w the uptick in opioids, to date we've seen nothing that indicates the long-running gravy train that is workers' comp is headed off the tracks.
What does this mean for you?
Prevention is the best cure – the most protective cloth mask is a two-layer woven nylon version.
If you don't have one, use your regular mask this way: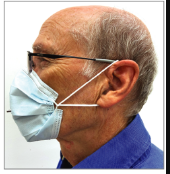 See you next year.