It is times like this that determine if people have souls.
To those who say stay out of politics, I say – I wish I could [see comments at link].  What happened last year, and last summer, and last week make that impossible.  We can't just continue on as if nothing had happened.
Our country – lauded by self-described "patriots" as the greatest country in the world:
photo credit Daily Mail, circled object is fire extinguisher thrown by rioter that struck and killed Officer Brian Sicknick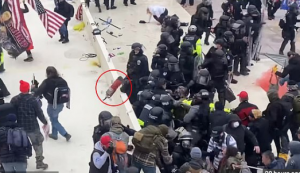 American Carnage indeed.
I get that people are upset when their candidate loses a critical election – millions of Americans – your fellow citizens – were crushed when Trump won in 2016. I was – and still am – among them.  As much as it hurts to say it, Trump won in 2016 – and we accepted that victory. We did not riot, lie, provoke, build scaffolds on the Mall, threaten to hang the Vice President and shoot the Speaker of the House. We did not file 60 lawsuits seeking to overturn our fellow citizens' votes.
I accept and understand that Trump supporters are distraught, angry, even terrified – as I was in 2016 (and still am of the damage Trump has done and will do). I do not accept and cannot allow the anti-American behavior of many to pass unremarked and unchallenged.
I applaud the businesses that have stopped contributing to politicians lying about election fraud. Among those organizations fed up with Trump and his enablers are AirBnB, Amazon, BestBuy, the Blue Cross Blue Shield Association, Commerce Bank, Dow, Marriott, GE, Hallmark, AT&T, MasterCard, Verizon.
I decry CVS, Berkshire Hathaway, Facebook, Goldman Sachs, JP MorganChase, Microsoft, Google, BlackRock, Charles Schwab, VISA and others who have suspended all political contributing to all politicians – this smacks of false equivalency when it is blindingly obvious that the Ted Cruzes and Josh Hawleys are guilty of fomenting insurrection – not the Sherrod Browns and Jason Crows.
My family has agreed that we must do more. So, I will contribute 10 percent of my income to organizations dedicated to righting wrongs. The Southern Poverty Law Center, BLOCbyBLOC, FairFight, and the Native American Rights Fund are the ones we've chosen.
This may well cost me readers, business, income, and prominence – and I am totally fine with that. What we are on the verge of losing is immeasurably more important.
[to unsubscribe just respond to this post with unsubscribe in the subject line]
Tomorrow – back to health care and related topics.