I'm almost halfway thru the 17th (!!) annual survey of Pharmacy Benefit Management in Workers' Comp.  Here are some VERY preliminary results (which are almost certain to change).
If you are a WC payer and want to participate, drop me a note in the Comments section.  Public versions of past surveys are here, respondents receive a much more detailed version.
Findings
All but one respondent saw a drop in drug spend from 2019 to 2020; the biggest cost reduction driver was fewer claims.
Despite a 7+ year trend of declining drug costs, respondents view prescription drug issues as somewhat more important than other medical issues. This is likely driven by drugs' impact on recovery and return to work.
Transparency remains a significant concern, with only 2 respondents having full visibility into drug costs. Most want more transparency and no one is really comfortable with AWP.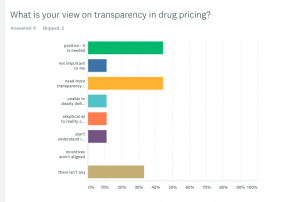 Opioid spend continues to decline...which is the good news.  Not-so-good is the continued problem of helping long-term users reduce or eliminate opioids. Prescriber intransigence is the major obstacle followed by attorneys blocking access to patients.
Few payers have audited their PBM and those that have are (mostly) just checking AWP pricing compliance.
Several noted out-of-state mail order pharmacies – mostly IWP and entities in Pennsylvania – continue to be a sore spot, adding cost, negatively affecting clinical management, and wasting adjuster time.
What does this mean for you?
Costs are down, but pharmacy is about much more than the price of the pill.