Highly credible data shows today's infection rate among the unvaccinated is as high as it was back in January.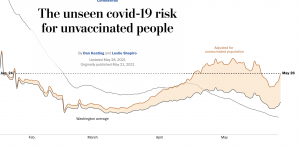 Remember January?
Shutdown restaurants. Remote "learning". No family gatherings. No high school sports. No fans at professional sports. No concerts or weddings or parties or fun.
80,000 of our friends, parents, grandparents, colleagues, and loved ones died of COVID in January.
If you aren't vaccinated, don't think you're safe.  You are not. Your chance of getting COVID is the same as it was back in January.
But that's not the worst of it.  Research shows the variants are more infectious, and in some states this is driving a hospitalization rate double what it was in January.
What does this mean for you>
Unless you don't care about leaving family, friends, kids, parents, and loved ones with nothing but memories of you, get vaccinated.