Hospitals in Idaho, Alaska, Alabama, Montana and other states are rationing care – a painful decision necessitated by unvaccinated patients suffering from severe COVID infections overwhelming available facilities.
In Idaho, the State Department of Health and Welfare now "allows hospitals to allot scarce resources like intensive care unit rooms to patients most likely to survive and make other dramatic changes to the way they treat patients.
In Kootenai Health's ICU, one critical care nurse might be supervising up to six patients with the help of two other non-critical care nurses. The usual ratio is one ICU nurse for one ICU patient.
"nearly 92% of all of the COVID-19 patients in St. Luke's hospitals were unvaccinated. Sixty-one of the hospital's 78 ICU patients had COVID-19."
A Montana hospital "was also forced to implement crisis standards of care amid a surge in COVID-19 patients" when all critical care beds were already occupied.
In Houston Texas, a military veteran died when no hospitals near him had space or staff to treat a sudden case of gallstone pancreatitis.
A 73 year old Alabama man died of a cardiac condition when the hospital in his hometown of Cullman, Ala., contacted 43 others in three states — and all were unable to give him the care he needed. Three weeks ago there were 60 more ICU patients than beds in ICUs.
There are many. many more examples.
This. Should. Never. Have. Happened.
And wouldn't have if not for COVID deniers, anti-vaxxers, and the media channels that gave them a megaphone to spread their nonsense.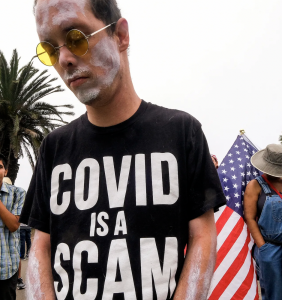 Getting anti-vaxxers to change their views is incredibly difficult; the media is replete with stories of COVID patients telling their doctors they don't believe they have the virus (look them up).
Medical providers's option is stark indeed – treat the patients with a self-inflicted disease, or send them home…and treat the heart attack, car crash, pancreatitis, stroke, burn, asthma attack and other patients.
It has come to this.
What does this mean for you?
With personal choice comes personal responsibility.