Three days ago President Biden signed the Infrastructure Investment and Jobs Act, a notable accomplishment coming after bipartisan support in Congress.  Pretty remarkable that this happened at all; past Administrations  – both Democratic and Republican that enjoyed majorities in Congress were unable to pass this desperately needed legislation.
There's lots of good news in the Act; including: (source Business Facilities)
US$47 billion in climate resilience measures to protect buildings from the storms and fires that result from climate change
$65 billion to repair and protect the electric grid, build new transmission lines for renewable power and develop nuclear energy and "green hydrogen" and carbon capture technologies
$39 billion to continue and expand current public transit programs, including help that allows cities and states to buy zero- or low-emission buses
$66 billion to fix Amtrak and build out its service along the Northwest Corridor, in addition to building tens of millions for high-speed rail and other commuter rail
$7.5 billion to build electric vehicle charging stations;
$25 billion to repair airports to reduce congestion and emissions, encouraging the use of low-carbon flight technology
States are already targeting the funds for much-needed projects; North Carolina is getting $1.5 billion for bridge repairs,  broadband expansion, and transportation upgrades – and more dollars for other projects.
Wyoming's roads, dams, water systems and bridges will get $2.5 billion in repairs and upgrades.
Arizona's rapidly expanding population desperately needs new infrastructure – and big improvements to utilities especially water as well as ports of entry along the border. 
The federal Transportation Department "plans to open competition for the first round of port infrastructure grants funded by the bill within 90 days, as part of a broader effort to ease supply chain bottlenecks slowing down the delivery of goods."
That will impact Long Beach, Savannah, Houston, Los Angeles, Miami, Mobile, Seattle, Norfolk and other critical ports.
The question is – how fast will these dollars translate into employment? I'd say next summer we will see a noticeable impact as plans that are already under development get funding commitments.
The Federal Highway Administration projects each billion dollars in highway funding supports 13,000 jobs.
 $2.1 trillion boost of public infrastructure spending over a 10-year period, to the levels (relative to GDP) of the mid-20th century, could add as much as $5.7 trillion to the U.S. over the next decade, creating 2.3 million jobs by 2024 as the work is being completed.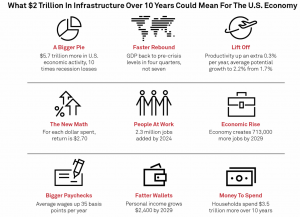 The Act is about $1.7 trillion in spending, so we're looking at about 1.9 million jobs. 
Of course, that is an estimate – it could be higher or lower. However, there's no question workers' comp will see:
higher premiums;
more claims; and
higher severity.
What does this mean for you?
Prepare for some much-needed growth.