When Physician Management Companies took over anesthesia practices, the units (amount of services) and prices went up dramatically (when compared to other practices).
As in 16.5% and 18.7% respectively.
No surprise, prices went up even more – as in 26% – if the PMCs were owned by private equity companies.
The fine folks at WorkCompCentral published the news that OptumRx settled with the Commonwealth of Massachusetts over the Commonwealth's claim that OptumRx failed to follow workers' compensation prescription drug pricing procedures. OptumRx agreed to pay the state $5.8 million. The settlement is here.
I'm trying to get more detail on this as the Commonwealth's press release is a bit confusing.  You'll know if/when we get more details.
Finally, the conspiracy theory that somehow COVID came from a lab has been put to rest – at least for those of us who believe in science. Somehow I doubt the tin foil hat crowd will accept the news that the virus originated in the Wuhan market.
Where COVID originated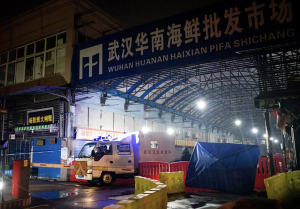 From Michael Worobey, a co-author on both studies and an evolutionary biologist at the University of Arizona via Medscape "When you look at all the evidence together, it's an extraordinarily clear picture that the pandemic started at the Wuhan market…"
More details on the two studies:
In one study, researchers used spatial analysis to show that the earliest COVID-19 cases, which were diagnosed in December 2019, were linked to the market. Researchers also found that environmental samples that tested positive for the SARS-CoV-2 virus were associated with animal vendors.
In another study, researchers found that two major viral lineages of the coronavirus resulted from at least two events when the virus spread from animals into humans. The first transmission most likely happened in late November or early December 2019, they wrote, and the other likely happened a few weeks later.
There's an excellent synopsis of the research and methodologies here. If you want to weigh in, please review the article at the link first.
What does this mean for you?
For-profit healthcare can be very problematic, and science always wins.
We are all shocked and heartsick over Putin's War on Ukraine – if you want to help Ukraine and Ukrainians, please consider a contribution to Care. Care is a very reputable and highly effective NGO with a rich history of successfully mitigating disasters and helping people.