Thanks to the friends, colleagues, and to-be-friends who've asked if I have time to meet at RIMS.
I gave up attending the massive P&C event years ago; it was yet another conference among several that were more useful, interesting and focused on work comp.
RIMS is more or a P&C generalist event, covering everything from cyber to terrorism (back when terrorists didn't invade the Capitol) to marine and D&O – sure there's a bit of comp but those sessions were pretty thin.
Instead, I find CWCI, WCRI, and NCCI far more productive – but that's just me.
Also heading back from the Bay Area where I watched my beloved Syracuse University men's rowing team take on the best crews on the west coast. Here's our varsity 8 leading last year's national champion U Washington halfway through the  course…UW won by a second…kudos to the Huskies.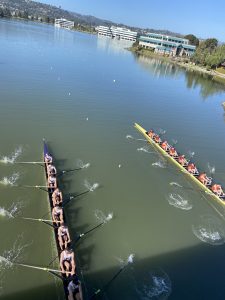 Enjoy San Fran – a terrific and wonderful city.