There's been a lot of news around work comp pharmacy of late – time to dive into what's happening, why, and the implications thereof.
No better place to start than WCRI's just-published study on the latest in drug trends across 28 states. (register here for the no-cost webinar – September 29 at 2 pm eastern). The research looked at trends over the three years from Q1 2018 to Q1 2021 (kudos to WCRI for getting this very recent info out quickly)
Key takeaways from Dongchun Wang, Vennela Thumula, Te-Chun Liu's research include:
Rx payments (all figures are per claim) dropped 15% or more in almost 2/3rds of the 28 states..but went UP in:

Connecticut (+22%), Florida (+17%), and Pennsylvania (+14%)(hmmmmm…)
notably a major driver of the increase in those states was dermatological agents…driven by physician dispensing and/or mail order pharmacy dispensed drugs in those three states (and others)


COVID is a non-factor; COVID claims account for <2% of total Rx costs in most states
Other good news – opioids continued to decline in all 28 states – A LOT. As in a decrease of 56% in the median state
The biggest drop in spend occurred in New York – a 43% decrease driven by the adoption of a formulary in early 2020.
The range in spend is really striking; as of Q1 2021, the lowest state spend for claims with any medical spend was $22 (MA, MN, WI); the highest was almost 10 times higher in – you guessed it – Florida at $201.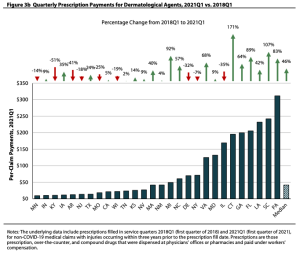 So…takeaways
States that enable/allow/don't prevent abusive prescribing and dispensing – looking at you, Connecticut, Georgia, Florida, Louisiana, Pennsylvania, South Carolina – and others – are allowing grifters and thieves to steal money from employers and taxpayers while over-treating patients. 
Lotions aka dermatological agents are almost entirely a (pick your term) enabled and perpetrated by physician dispensers and some mail order pharmacies…and the lack of aggressive and useful action by employers and insurers and their lobbyists.
Forecast
Insurers and employers and taxpayers in those states are going to get hammered by these bad actors. Costs for dermatological agents rose more than 50% in PA, CT, SC, FL, GA, VA, NC and MI.
Given the lack of an effective response by payers, their lobbyists and government affairs entities, you can expect more of the same.
What does this mean for you?
Great work on the opioid front – although just slashing opioids is not THE solution to pain – this requires a multi-pronged approach.
re dermatological agents – Do you like getting screwed by profiteers?