and here's why.
Work comp payers actually care about the patients recovery, return to functionality, ability, and productivity. Work comp HAS to…screwing up recovery = huge financial penalties in the form of claims that last forever, really costly settlements, and migraine-level headaches for all involved.
Whereas in group/individual health, Medicare and Medicaid (mostly), functionality is – at best, and then only rarely – an afterthought.
side note – if you think about it, how dumb is it that 99% of healthcare payers don't really care whether the $4.2 trillion they spend on healthcare actually improves lives, helps patients stay active, supports functionality, and helps us live the lives we want to live?
answer – dumb as a box of rocks
WCRI's latest in a never-ending stream of excellent research brought me back to this...researchers examined patient-reported functional outcomes after low-back pain, a far-too-common and sometimes really problematic diagnosis. [report is free to WCRI members and a nominal cost to non-members].
The research compared WC outcomes to those of other payers…and:
included patients covered by all types of payers,
totaled some 2.4 million patients (!),
covered almost 1.3 million PT/OT episodes of care, and
used patient-reported functional status specific to the low back pain issue (as captured by FOTO).
The researchers obviously put a LOT of thought into selecting the measure…they describe the process and rationale in detail in the report (ppg. 15 – 19).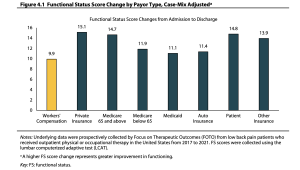 credit WCRI
While it is important indeed to consider that workers' comp patients' reported functional improvements were not as high as some other payers – and we  need to understand why – that's secondary to the fact that work comp's primary focus – return to functionality – is way different from other payers'.
With extremely rare exceptions, no other payers focus on functionality, and almost none do across all patients with all conditions.
Kudos to Sebastian Negrusa, Vennela Thumula, Randall Lea, and Te-Chun Liu for their excellent work.
What does this mean for you?
Work comp gets beat up a lot…this is why – in one extremely important way -workers' comp is superior to all other payers.