It's been a blissful few months as COVIDF has retreated into the background, likely to remain with us forever but hopefully as a nuisance not the million+ killer it was for the last couple of years.
So, two new items.
First, in what can only be described as a huge waste of taxpayer money, a very large and very scientific study found ivermectin does not reduce COVID symptoms. 
Shocking, right?
Details…
double-blind, randomized, placebo-controlled platform trial
1206 US adults with COVID-19
median time to sustained recovery was 11 days in the ivermectin group and 11 days in the placebo group.
Hucksters, charlatans, former US presidents and other of the willfully-ignorant will undoubtedly parse, lie, misstate, ignore, or otherwise continue to claim that a veterinary medicine for treating bacterial infections is actually a cure for a viral infection.
to quote a T-shirt recently spotted…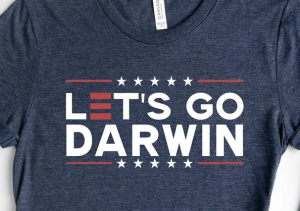 Lab leak, nefarious plot, or animal-to-human transmission?
Last week the new broke that the US Department of Energy thinks  – albeit with "low confidence" – that COVID leaked out of a Chinese lab.
This is sort of like saying "Tom Brady is going to sign with the Yankees as a pitcher…heard this from a guy I know who was on a plane sitting next to a woman who looked like a reporter and saw her writing that Brady's heading to spring training in Tampa…"
This is NOT to disparage the scientists at DoE, rather to remedy what seems to be a serious lack of reading ability on the part of too many who can't seem to grasp – or rather refuse to accept – that things are rarely black-and-white, or as friend and colleague Pier Rousmaniere notes in his signature line;
Doubt is not a pleasant condition, but certainty is absurd. – Voltaire
[Unless, of course, one has completed a rigorous 1200 person RDB – CT study]
Nine Federal intelligence agencies have completed their research on the "where did COVID come from?" question…Two of those concluded a likely lab leak, five said natural causes and two said they don't know.
Given the really lousy record these state-of-the-art labs have when it come to keeping deadly viruses contained, it is certainly possible it leaked.
Reality is  – it is unlikely we will ever know – for certain.
What does this mean for you?
Read carefully before posting.