WCRI is out with its latest inventory of state regulations re prescription drug management. This is a must-have for claims execs, managed care leaders, medical directors and risk managers…pricing, utilization review, opioid management, formularies and PBM regs are all covered.
Revenue Cycle Management – aka hoovering mounds of cash from workers' comp payers – is the focus of a "white paper" targeting hospital and health system execs. If you want to know the hooverers' playbook, sign up and be prepared to be amazed.
A closely-related item…
From the wonderful folks at Kaiser Family Foundation comes the shocking news that facility fees are driving ER costs to the moon. As most of you (hopefully) know, regulations allow any service delivered at a facility to uncharge a facility fee. It is not hyperbole to note hospitals are wildly abusing this, taking on facility fees to services provided at
remote clinics
physician offices
even telemedicine visits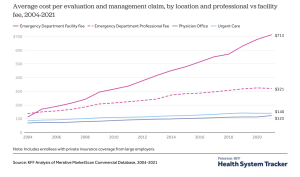 oh, btw, many hospitals are STILL not complying with Federal requirements to post prices…
Finally, from HBR comes this excellent advisory on how not to anger/frustrate/alienate customers…something many worker's comp entities seem surprisingly good at. (We are NOT looking at you, LWCC…your work on patient engagement is really good stuff)
All too common is the industry's maniacal prioritization of efficiency over everything else. From HBR:
when focusing on efficiency, many companies overlook the emotional aspect of the customer experience — how customers feel when interacting with the business.
The piece focuses on consumers – which every injured worker is.
What does this mean for you?
Tired of being hospitals' piggy bank?… then understand facility cost drivers and techniques.
Injured worker engagement is critical to helping them return to functionality.